Trucking news and briefs for Friday, Dec. 23, 2022:
Retail used-truck prices fall with freight tonnage
ACT Research reported last week preliminary used Class 8 retail volumes (same dealer sales) decreased 15% month-over-month with prices also slipping by 3% compared to October.
That volume total was down 38% year over year. Price remained up 1% over last November but has likely since shifted downward in December. Compared to November 2021, average miles and age were up by 3% and 1%, respectively.
"Positively, the average retail sales price of Class 8 trucks sold in November was above $80,000. Unfortunately, that means prices fell 3% compared to October," a reflection of declining demand, said Steve Tam, ACT Research vice president. "There is no escaping the reality that is excess freight hauling capacity in a declining economy. ... That simple fundamental imbalance carries quite a bit of sway when it comes to used truck pricing."
J.D. Power saw similar retail numbers, calling Class 8 retail "dismal" in November with retail sales per dealer at 2.2 trucks, the lowest result ever recorded.
Industry analyst Chris Visser believed that increasing interest rates, declining equity and a cooling freight market all contributed to the weak market. The average sleeper truck sold in November was 73 months old with 469,492 miles and brought in $89,810. This was three months older than October's average truck with more miles, and about 6% cheaper.
November pricing was as follows for up to six-year-old trucks:
2021: $150,448; $1,457 or 1% lower than October
2020: $115,317; $6,771 or 5.5% lower than October
2019: $102,855; $855 or 0.7% higher than October
2018: $77,694; $7,110 or 8.4% lower than October
2017: $65,710; $4,230 or 6% lower than October
At auction, pricing for clean trucks with average to low mileage has been stable since late in the third quarter. Average pricing for the benchmark truck in November was:
2021: $159,070
2020: $96,350; $7,325 or 8.2% higher than October
2019: $77,676; $3,229 or 4.3% higher than October
2018: $59,259; $4,090 or 6.5% lower than October
2017: $40,126; $1,542 or 4% higher than October
November's auctioned trucks averaged 3% more money than October, but 27% less than in November 2021. Year to date, three- to six-year-old sleeper trucks depreciated 4.7% per month on average. Monthly depreciation, as well as pricing, depends on mileage and specifications.
Visser noted the supply of new trucks is insufficient to cause a substantial influx of late-model trades and that selling prices are still up to 45% higher than the last pre-pandemic peak.
What might be a measure of good news for used-equipment pricing in November reflects the reality Steve Tam of ACT referred to above: Freight markets were in decline in November. According to the the American Trucking Associations' advanced seasonally adjusted For-Hire Truck Tonnage Index. "For-hire truck tonnage saw the largest single monthly decrease in November since the start of the pandemic," said ATA Chief Economist Bob Costello, reflecting a "total drop of 3.7% in October and November."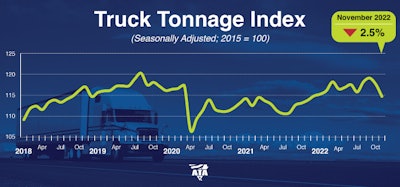 The index fell 2.5% in November alone. In November, the index equaled 114.7 (2015=100) versus 117.6 in October..
Costello added, "The decreases match anecdotal reports of a soft fall freight season, as well as a slowing goods economy generally. Housing-related freight is particularly weak."
Compared with November 2021, the SA index was up 0.8%, which was the 15th straight year-over-year gain, but the smallest over that period. In October, the index was up 4% from a year earlier. Year-to-date through November, compared with the same period in 2021, tonnage was up 3.7%.
The not seasonally adjusted index, which represents the change in tonnage actually hauled by fleets before any seasonal adjustment, equaled 114.6 in November, 4.6% below the October level (120.2). In calculating the index, 100 represents 2015. ATA's For-Hire Truck Tonnage Index is dominated by contract freight as opposed to spot market freight.
[Related: 2023 headwinds blowing: Legal pressures, economic conditions for the road ahead]
FMCSA denies petition to allow hair drug testing reports to Clearinghouse
The Federal Motor Carrier Safety Administration has denied a request from the Trucking Alliance to "amend the definition of actual knowledge to include the employer's knowledge of a driver's positive hair test, which would require such results be reported to the FMCSA Drug and Alcohol Clearinghouse and to inquiring carriers."
Trucking companies who have "actual knowledge" of a driver's positive urine drug test are currently required to report that test result to the Clearinghouse.
In its application for exemption, the Trucking Alliance said it believes that because hair testing is more reliable and accurate than urine testing, it is the "appropriate drug testing method for preemployment and random testing protocols."
In denying the petition, FMCSA said it lacks the statutory authority to grant the exemption request to amend the definition of actual knowledge to include the employer's knowledge of a driver's positive hair test.
The Department of Transportation, including FMCSA, is required to follow the Department of Health and Human Services' (HHS) Mandatory Guidelines for technical and scientific issues related to testing for controlled substances. Because HHS has not yet issued final guidelines for hair testing, FMCSA cannot grant the exemption.
The FAST Act transportation bill, signed into law by President Obama in December 2015, allows for hair follicle drug testing as a DOT-approved method, but not until HHS establishes guidelines for testing. The FAST Act mandated that those guidelines be developed within a year of the FAST Act becoming law, but HHS did not publish proposed guidelines until September 2020. HHS has not yet issued a final version of those guidelines.
The Trucking Alliance is made up of a group of large carriers, including Cargo Transporters, Dupré Logistics, Frozen Food Express, J.B. Hunt, KLLM, Knight Transportation, Maverick Transportation, Schneider, Swift Transportation, U.S. Xpress and May Trucking Company.
[Related: Does trucking have a 'seriously' under-reported cocaine problem?]