Trucking news and briefs for Thursday, Jan. 12, 2023:
Cargo theft ticked up in 2022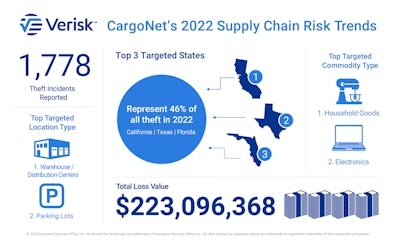 Cargo theft recording firm CargoNet recorded 1,778 supply chain risk events across the United States and Canada in 2022, a 15% increase over 2021.
The firm's 2022 data indicated that events that involved theft of at least one heavy commercial vehicle such as a semi-truck or semi-trailer increased by 17% year-over-year, while events that involved theft of cargo increased by 20% year-over-year. CargoNet noted that a single event record could involve theft of one or more vehicles or shipments.
The average value of cargo stolen in an event was $214,104. CargoNet estimates that $223 million in cargo was stolen across all cargo theft events in 2022.
Supply chain disruptions were one of the main concerns of the year because of their effect on inflation, CargoNet said. Scarcity and cost drove illicit market demand for goods that were most affected, like computer graphics cards and raw beef, poultry and pork. Available capacity eased in the later months of 2022, but theft remained a prominent threat.
[Related: Thieves targeting control modules in trucks -- law enforcement intesifies warning]
Increases in theft activity around major intermodal hubs were significant. California remained the top state for reported events in 2022, and theft in the state increased 41% year-over-year. Computer and green energy components were some of the most frequently stolen items of the year, and California is a major logistics hub for these items.
Theft in Georgia increased by 34% year-over-year, due in part to organized crime groups that took advantage of increased traffic to the Port of Savannah. Georgia shut down a state task force to investigate cargo theft in 2020, CargoNet said.
Household items, including appliances and furniture, were the most stolen commodity in 2022. Household items were closely followed by electronics. Theft of computer electronics decreased by 37% from 2021, but CargoNet noted theft of those products reached unprecedented highs in 2021 and theft was still elevated compared to recent years. Additionally, theft of televisions and other displays nearly doubled from 2021.
CargoNet warns that the transportation industry should take steps to mitigate fictitious cargo pickups -- a blend of identity crime and cargo theft that can affect all parties in a supply chain. CargoNet recorded 96 more fictitious pickups in 2022 compared to the year prior, a 600% increase year-over-year. Shipments of solar modules, auto parts, and vehicle maintenance products like engine oil are most at risk, but the threat extends to most categories of goods.
This style of theft relies heavily on subcontracting the shipment to a legitimate motor carrier and having the shipment misdirected to another address. Brokers and shippers can help prevent fictitious cargo pickups by verifying any bids on shipments with the motor carrier through their contact information on file with the FMCSA and verifying the name of the motor carrier and driver matches who the shipment was tendered to.
Motor carriers should be wary of new customers that offer payment through peer-to-peer money transfer apps if their business would haul a blind shipment delivering to an address different from the bill of lading, especially if the address is a public warehouse or cross-dock in California.
[Related: How to guard both personal and business identity to prevent theft]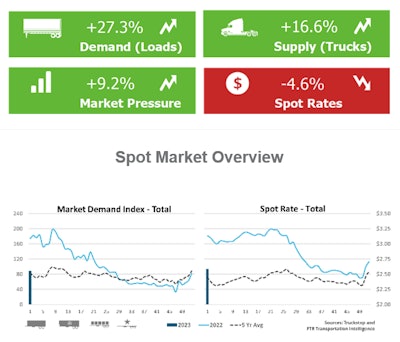 HHG moving company operator gets six years in prison for fraud scheme
A household goods moving company operator has been sentenced to six years in prison, three years of supervised release and a $100 special assessment after pleading guilty in August to participating in a racketeering conspiracy related to a moving company enterprise.
According to the Department of Transportation Office of Inspector General, Serghei Verlan, along with other members of the enterprise, controlled several moving companies that defrauded, extorted and stole customers' household goods between April 2013 and July 2018.
After loading customers' goods onto a moving truck, the moving enterprise would increase the price of the move and hold the goods hostage until customers paid the inflated prices. The enterprise also charged customers for moving more cubic footage of household goods than what were actually loaded, and some customers' goods were never delivered.
Free webinar to discuss new Navistar transmission
Truck owners who do their own maintenance may be interested in an upcoming free webinar for service technicians focusing on Navistar's new T14 HD truck transmission.
The webinar is being hosted by the National Institute for Automotive Service Excellence (ASE) on Tuesday, Jan. 17, at 4 p.m. Eastern.
Paul McKee with Navistar will show the progression from manual to fully automated transmissions, with a spotlight on the new Navistar T14 transmission.
After registering, a confirmation email will be sent containing information about joining the webinar. Those who are not sure if they can attend are encouraged to register as they will receive a follow-up email with details on how to attend a recorded session, if available.