If you needed evidence of owner-operator Greg Parks' maintenance prowess, you need look no farther than the 2015 Western Star daycab that is his principal hauler. While the truck was close to new when he bought it in 2015 -- "it was just two months old," Parks said -- there's an element of its history that made his success with it all the more remarkable.
"I bought it as salvage," he said. It'd been almost entirely underwater when its original operator, who hauled logs with it, went around flood-warning-intended barricades, then proceeded to get stuck in high water not far from the two-man diesel shop Parks has owned and operated in Camden, Arkansas, since the 1990s. "The water came up to as high as the sun visor."
Next morning, the river had fallen and the owners brought it to Parks' shop. "We drained all the water and oil and diesel out of it -- oil had come up to the valve cover," said Parks. "Their insurance company said it's totaled. I bought it back a month later," installed three new batteries and fired it back up, figuring it wasn't in the water long enough to "hurt everything." While he changed the "gauges, switches and electronic stuff in the dash, the wiring is all original."
It's been running strong ever since, working 6-10 extra-complicated jobs a year that Parks sandwiches between more regular mechanicking work.
Houseboat work, though there's not enough coming his way to keep busy year-round, can be quite lucrative with all the time and effort required. Parks got into it in 2010 out of necessity, of a fashion, when needing to move he and his wife Rhonda's own boat. "We couldn't find anybody," she said, so Greg borrowed his dad's truck, leased a trailer with a company out of Louisiana and set about doing it himself.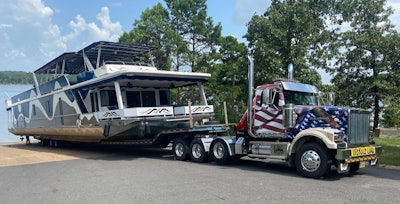 The biggest boats can bring $50K in revenue, he said, though the entire process could take you a week or two to complete, with a lot of disassembling and reassembling involved.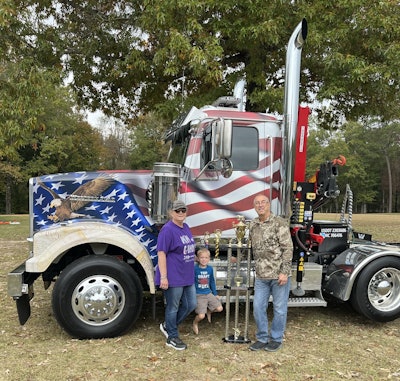 As for the Western Star, he figures "it'll last me from now on, forever," he said. "I can't have more than 25,000 miles on the truck -- my tires dry rot no more than I use it." Jobs close to home garnered through word of mouth through the years have taken him from the local area into states bordering Arkansas, mostly -- Texas and Missouri, for instance. Via his Parks Garage shop, "we work on houseboats, too," performing routine maintenance on gas engines and other parts of the boats for owners.
Yet his specialty is diesel, "working on big trucks," he said. "I work on all my own stuff," and can handle Cummins, Caterpillar, Detroit ... "no Volvo" engines, though, he said.
If you're in the Parks' area and in need of service, tell them we said hi.
[Related: Trucking's toughest niche? Inside log hauling, which could be on the brink of a powertrain revolution]
---
More "Niche hauls" in Overdrive from our broader, more in-depth series on various freight specialiies.