Chace Barber is a TikTok star with 770,000 followers and a mission to eat Elon Musk's lunch by beating the world's richest man to the punch with a useful, powerful electrified truck. It helps he's also a fourth-generation log hauler with deep roots in Canada's lumber country.
"My great grandfather did it," he said of the log hauling business. "He did it in his teens with a mule train" up in the rich forests of British Columbia, a Canadian province with twice the land area of California and only four million people.
These pristine woods provide the U.S. with about 80% of its softwood lumber. Canada in total provided more than eight billion dollars in lumber to the U.S. in 2020, according to Canadian government statistics. It's there in Merritt, British Columbia, where Barber's family roots lie, and where he's cooking up what could be the next chapter in one of the toughest trucking niches imaginable.
Barber started driving at 18 in Canada. "I've spent the majority of my time logging, but I also moved drilling rigs and did the ice roads" further up north, he said, in addition to some years over-the-road. Eventually, Barber started a small log-hauling fleet. He ran for seven years before shuttering to focus on electrification efforts. The experience running his fleet gave him a keen eye for what makes a good log hauler.
"At least in Canada, the way it works is most companies won't hire a guy if they have too much driving time on-highway" pulling a van, he said. "Logging is a totally unique set of skills, and there's things you learn at a mega carrier where you'd have to retrain a guy."
But therein lie some of the perks of the job as well. Log hauling can be hard on a driver and hard on a truck -- rather than "fighting boredom" and the fatigue of long hours over-the-road, Barber said he and fellow operators are "fighting pure adrenaline" rushes to maintain calm. "The way you drive a truck is so fundamentally different than on the highway. You're coming down a 30% grade with switchbacks in the snow."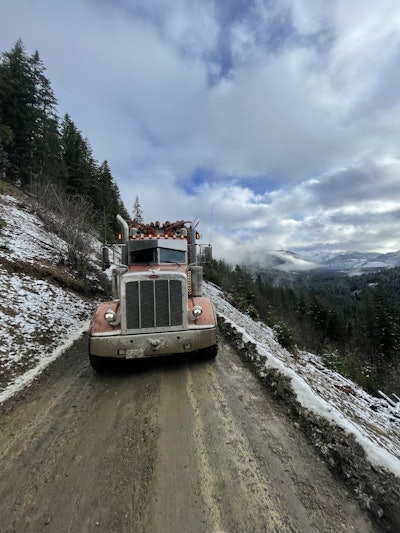 It's almost always short-haul, though, with mills "within an hour" of logging sites, he said.
"That's why I like logging, Monday through Friday I'm home every night," Barber said. "Our trucks don't have sleepers. Saturday and Sunday we're off, and then it's back to work."
To get a feel for just how exotic Barber's experience in Canada may or may not be, cue up Vermont-based small fleet owner John Eastman. The timber in and around New England is a bit different, often including more hardwoods, but much of the other details track. His Eastman Trucking & Excavation business, based out of Hartford, employs 10 company drivers, and Eastman still drives himself. He said that the work is mostly on weekdays, but nobody clocks out until "the job is done."
Another thing Eastman and Barber have in common is heavy hauling, though the scale tips toward the Canadian side. Eastman said they regularly run 100,000-pound loads on dirt roads, whereas Barber noted he could get up to 150,000 with double or triple trailers.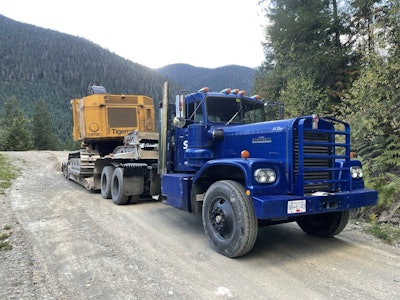 When something goes thunk out in the woods, though, it's often on the operator to fix it, said Barber.
"One of the biggest things is on a highway truck, a lot of drivers are not doing a ton of maintenance, and if you do you're close to a shop," he said. "Here, you're not even in cell service, you can't phone anyone, and you have to know how to get it out of the bush, how to fix it."
In that way, Barber said the niche might be "even closer to being an old-school owner-op trucker," because "you've got to be part mechanic."
[Related: Business base: Mechanical experience before buying the truck]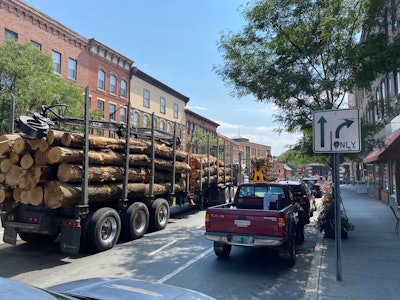 The winter months actually make for the best logging, particularly up north, according to both Eastman and Barber. "In the winter your ground is good, the roads are smooth and potholes are filled in with ice and snow," Barber said. "The ground is hard, which can make for a really good time and more speed in the winter."
Running chains isn't optional, and the equipment takes a beating. "I counted one year, I went through 460 tires," Barber said.
"I spend a lot of money on tires," Eastman concurred. "We try to get the state-of-the-art, best tires I can buy for the driver and myself."
As for the trucks themselves, they need to be heavy-spec'd and ready to get beat up. "You look at double frame rails and three-axle drive, heavier suspension and heavier rigging," said Barber.
Both Barber and Eastman seemed to show a preference for older Paccar brands Peterbilt and Kenworth, for durability. "You can get away with older trucks, because the lifespan is a lot longer, and you spend good money to buy something tough that's going to last," said Barber, who eight years ago purchased a 1969 Kenworth LW-923 from its original owner to haul logs.
Unlike California in the U.S., emissions regs in Canada don't sweat the older builds too much. Barber said the rule is that the truck has to meet the emissions standards for the year it was built, as in most of the U.S. In the case of a 1969 truck, Barber said that means "it needs to have a muffler."
The secret to safely barreling down a winding icy mountain with 75 tons of logs on your back, according to Barber, is to have a great attitude and be a good listener.
"It takes a lot of training, a lot of confidence behind the wheel, a lot of time in the seat," he said. "And a lot of people don't make it. You've got to be able to hear and feel what your vehicle is doing, have a quick reaction time and understand the mechanics of how it actually works. How does a Jake Brake affect the rear end?"
By those standards, he feels, newer, more technically advanced trucks just don't cut the mustard, as nothing can substitute for an operator's experienced ear listening for the tires, the engine braking, the differentials.
"There's no point in having sensors in the vehicle," said Barber. "A good driver would know what's going on. Traction control should not be on a logging truck. At that level, you know when the tires are slipping. Maybe you want yours slipping. A lot of that is why you get so mad at new trucks with limited slip that want to kick differential out around 20 [kph]. It's like, 'Hold on, I'm in a loaded train at 150,000 taking a run at a hill, I don't wanna engage the diffs when it's too late, and I know how to get that handling back when I need it."
Read next: The Millennial TikTok-er out to electrify log-hauling in a '62 Kenworth