Trucking news and briefs for Friday, Sept. 23, 2022:
Trucking conditions improved in July but remained negative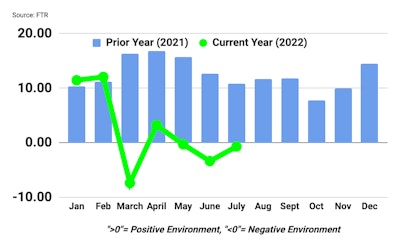 FTR's Trucking Conditions Index (TCI) improved in July to a reading of -0.7 from the previous -3.36, principally because of falling diesel prices during that month, FTR said.
Although the index was just below its neutral point at zero, it was the third consecutive month of negative readings -- a situation that had not occurred since March-May 2020. FTR expects that trucking market conditions are in for a long period of moderate weakness.
"Trucking companies had a great run, but freight dynamics clearly have softened," said Avery Vise, FTR's vice president of trucking. "While the economy and freight markets look more resilient than many observers fear, risks are weighted to the downside. Market weakness will not be uniform, but the type of freight is hardly the only differentiator."
Vise said carriers with more contract freight "should continue to fare significantly better than the total market," and carriers that have managed costs well "certainly will be in a better position to prosper."
[Related: Big owner-operator revenue gains offset entirely by the cost of fuel]
The TCI tracks the changes representing five major conditions in the U.S. truck market: freight volumes, freight rates, fleet capacity, fuel prices and financing costs. The individual metrics are combined into a single index indicating the industry's overall health. A positive score represents good, optimistic conditions. Conversely, a negative score represents bad, pessimistic conditions. Readings near zero are consistent with a neutral operating environment, and double-digit readings in either direction suggest significant operating changes are likely.
[Related: Diesel prices drop back below $5/gal, spot freight rates continue slide]
Trucker recognized for saving woman having medical emergency in crashed, enflamed vehicle
The Truckload Carriers Association has named truck driver Craig Gay, from Indianapolis, a Highway Angel for rescuing a woman having a medical emergency in her Jeep, which crashed and was engulfed in flames. Gay drives for Quickway Transportation out of Indianapolis.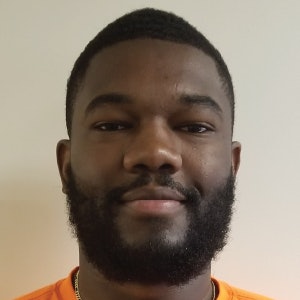 The Indiana State Police said troopers and the Indianapolis Fire Department responded to a crash on I-74 near the 96-mile marker. Gay was on his way home from work around 1 a.m. on July 6 when he came upon the crashed vehicle engulfed in flames, so he pulled over. Using his flashlight to look around the vehicle, he discovered the female driver was still in the vehicle, so he called 911.
"I went over to the driver's side, and I was like, 'Hey, you gotta get out -- your car is on fire!'" Gay said. The woman was not coherent.
Gay tried to pull the woman out of her car from the passenger side, but she could not get out of her seatbelt. He tried flagging down vehicles to see if someone had a knife or scissors to cut the seatbelt. Finally, a truck and two men stopped and gave him scissors. Another trucker stopped as well and used his fire extinguisher to work on the flames, so Gay could climb back in the car and cut the seatbelt.
"We tried to get her to come out to us, but she was just out of it," he said. "So I just went back." He grabbed the woman from the driver's seat, and the other bystanders pulled them both out of the burning vehicle.
Gay later came to find out the woman was a diabetic and her blood sugar had dropped, bringing on the medical emergency that caused the accident.
"If it wasn't for these two men, we could be investigating a fatal crash this morning. Their heroic actions and selfless response saved a life," said Indiana State Police Sergeant Jon Caddell.
Gay, a former Marine, was treated at the scene for smoke inhalation.
"When you're presented with a situation, the best thing is to take action and do something," he said. "Not just standing back and not doing anything -- what's a few burns to save somebody's life?"
NTTC makes donation to St. Christopher on behalf of driver of the year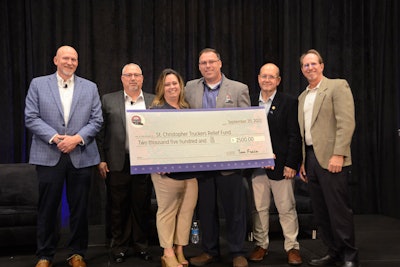 Highway Transport driver Thomas "Tom" Frain, who earned national driver of the year honors from the National Tank Truck Carriers (NTTC), has had $2,500 donated on his behalf to the St. Christopher Truckers Relief Fund, a nonprofit that helps truck drivers who are out of work due to injury or illness.
Frain, who was recognized earlier this year as the 2021-2022 Professional Tank Truck Driver of the Year Grand Champion, had the donation made in his name by NTTC to SCF as part of the award.
"It's an honor to have a donation sent in my name to a group that gives back in such an impactful way to the trucking community," Frain said. "St. Christopher Truckers Development and Relief Fund does an outstanding job of assisting my fellow drivers and their families during hardships."
NTTC added that it feels it's important to recognize community leaders and support organizations like SCF.
"The NTTC is pleased to provide this donation to the St. Christopher Truckers Development and Relief Fund on behalf of Mr. Frain," said William Lusk, NTTC manager of education and government relations. "It's important for us to recognize the leaders in our community while also giving back to those who move our industry forward. Our hope is that this funding will help SCF fulfill its mission to aid drivers and their families during a difficult season."