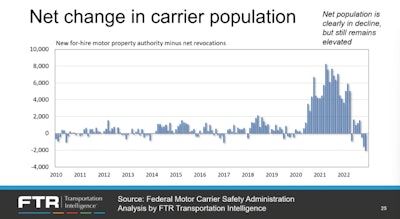 FTR Transportation Intelligence's monthly "State of Freight" online seminar series kicked off 2023 with a close look at the trajectory of a variety of trucking market indicators. Broadly speaking, analysts project a fairly flat to down market for freight movement writ large for the foreseeable future.
Of perhaps most import for owner-operators both leased and independent is the forecast of relative stability, compared to 2022, for contract and spot freight markets. The long and unprecedented surge in new carrier authorities that began following the early COVID period lockdowns in 2020 (illustrated above), with a spot market freight surge, came to a definitive end in 2022. Authority revocations were "at the highest levels" ever late in 2022, said FTR Trucking Vice President Avery Vise. Demand in the contract freight sector allowed many newly-minted authorized one- or just-a-few-truck carriers a fallback, leasing to a larger motor carrier.
For the year ahead, that fallback may well be less of a sure thing. Projections for freight demand industry-wide from FTR are flat, generally speaking, Vise noted. "As we lose drivers from carriers failing, in all likelihood we may lose them totally" in the coming year.
[Related: Is the 'trucking bloodbath' upon us? Trucking authority revocations paint a bleak, though misleading, picture]
The good news for owner-operators with authority who remain steadily profitable? After sinking mightily through the first few quarters of the year, spot rates had "leveled off by the Fall period," according to Vise, and showed signs of returning to something like the pre-pandemic "normal" with a "big jump at the end" of the year, a typical past seasonal pattern. "That big jump doesn't tend to stay" very long, and "we've already come down a little," as also reported just this past week.
ACT Research last week, too, noted in its "Freight Forecast" publication the narrowing spread between spot and contract rates that Vice President and Senior Analyst Tim Denoyer said represented a nearing end for this declining spot freight cycle. "Truckload spot rates experienced their first significant upswing in the past year from late November into early January," Denoyer said, "and the spread between spot and contract rates has started to tighten. While market conditions remain broadly loose, we're seeing more signs of slowing supply, key to the bottoming process."
Overall for the balance of the year ahead, FTR projects rates levels are "unlikely to change a lot," Vise siad. Active truck utilization, by FTR's estimation the number of trucks analysts believe are needed to haul all freight available divided by the actual trucks that are in fact available, spent the entire year of 2021 at full utilization, then fell through 2022 to "below the metric's 10-year average," Vise said. FTR projects utilization to "bottom out in the late third quarter of this year." If the economy weakens substantially and freight volumes deteriorate more than expected, though (with more carriers/drivers cycling out of trucking permanently), "that will put us behind the curve as we come out. ... We'll see a steeper downside, but also a steeper upside" for carriers who remain "into 2024."
Diesel fuel costs will play a big part in how it all plays out. FTR, Vise said, believes diesel-per-gallon costs today remain elevated "40 to 50 cents higher than what they should be given the price of crude oil." Prices have moderated to the positive for carriers in the last weeks of the year. "The question is whether we will continue to see moderation," he added.
The wider economy, intermodal sector reflect relatively flat freight forecast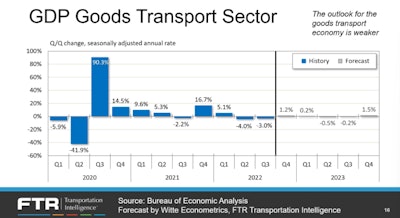 Vise noted the wild card in all of FTR's forecasts relative to the broader economy remains the rate of inflation. Yet "we do seem to have passed the peak" for inflation, with recent monthly estimates coming in lower, though not much lower, than prior months'. "Consumer spending, however, is holding up," he added, with "services spending offsetting mild decreases in spending on goods."
The national Gross Domestic Product measure, after two negative quarters in the second and third quarters of 2022, FTR projects to be back on the upswing for Q4. Its' custom domestic freight-specific GDP measure, too (see chart above), is projected to be back in positive territory for Q4 when all the numbers are in, even with weakening import volume. For the goods-transport GDP measure, FTR adds back in imports as a positive given their obvious contribution to U.S. freight volumes.
While the broader "environment is more or less flat here" in terms of FTR projections, Vise noted, for the balance of the year it "will translate to a negative environment for actual loadings."
Weakening import volumes contribute to that dynamic, noted Todd Tranausky, FTR vide president for rail and intermodal. "On a year over year change basis [imports] have slowed," with much of that slowing happening on West Coast after the huge back-ups seen in late 2021 into last year.
[Related: Intermodal haulers fight off 'system collapse' at ports]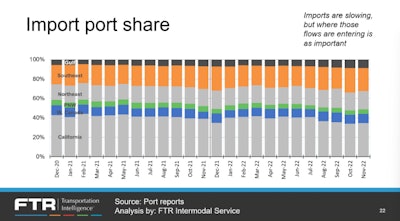 Tranausky believed that freight going to rail wouldn't be much incentivized throughout 2023 given the fall-off in trucking spot freight rates, leading a similarly flat projection for rail carloads through the year. The competitiveness of intermodal moves relative to trucking "will be significantly impaired" as a result, and "will remain negatively positioned relative to truckload in terms of attracting buying," perhaps good news for non-intermodal owners for the coming year.
[Related: Owner-operators' 2023 income expectations trend sharply negative]
You can view FTR's entire "State of Freight" webcast via this link.