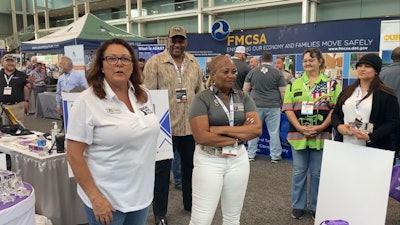 The Real Women In Trucking group on Friday, March 31, recognized women in the industry that fit their criteria of reaching out, encouraging others, achieving personal success, and showing leadership with the Trucking Industry Trailblazer Award, the Queen of the Road award, the Rookie of the Year Award, the Trainer of the Year Award, and numerous honorable mentions.
The 2023 Queen of the Road award went to Candace Marley, who nearly walked away from trucking due to an assault and "hostile male truck drivers" during her training days. Originally, she got into trucking to support her family 14 years ago after the death of her husband. But like many women on this list, she was undeterred after her assault and determined to make trucking more accessible for everyone. Sticking with the industry, she has since trained 16 female drivers. She's big into charity convoys, like the Mother's Day Make-A-Wish Convoy and the Special Olympics Convoy, and has been recognized with a couple of safety awards along the way. She's an RWIT member as well
2023's Rookie of the Year award went to Emely Renoso Ceballos, who started trucking in May 2022 and has been working for NFI since. She's since become an advocate for women in the industry, and believes women have a lot to offer as drivers. The 35 year-old is happily married with two children, and thanks her husband, her CDL trainer, and NFI for the support she's received.
2023's Trainer of the Year was Vontyna Durham, a driver with more than 15 years of experience and two years as a trainer. Durham operates her own trucking business and trains students to not just get their CDL, but their own operating authority as well. She currently works as a CDL instructor at Southwest Community College in Tennessee, known for giving struggling women and mothers a start in trucking by teaching them the necessary skills. She's won multiple awards for her work, including the Leaders and Legends Award, the Kindle Humanitarian award, and has been recognized by the DOT as a Leading Lady in Transportation.
The 2023 Trucking Industry Trailblazer Award went to Dianne McNair Smith, who runs 3 Girls Trucking Academy in Magee, Mississippi. She's certified as a Entry Level Driver Training instructor and a member of the DOT's new Women of Trucking Advisory Board. Smith's approach to training stresses that everyone learns at their own pace, and puts safety first by encouraging drivers to "stay as long as it takes" to get "whatever they need" from the program. She entered trucking more than 30 years ago after surviving domestic abuse, and now coaches people on how to succeed in the logistics industry whether through brokerages, dispatching, or truck ownership.
The Trailblazer Award is selected by RWIT president Desiree Wood "to recognize outstanding individuals that have served the trucking industry with distinction, dedication and professionalism."
Besides the awards, RWIT has had a big year pursuing advocacy goals. The group helping bring a lawsuit against Meta, parent company of Facebook, for what it alleges are discriminatory practices in job ad targeting within trucking. RWIT's Wood was also selected to be on the Transportation Research Board's Freight Transportation Planning and Logistics Committee. Wood and Smith also did stunt driving and starred in 2022's "Paradise Highway" Morgan Freeman and Juliette Binoche.
At MATS, RWIT was raising money for Truckers Emergency Assistance Responders, a group that provides immediate assistance to truckers struggling with carrier abandonment, wage theft, accidents, weather, illness and carrier retaliation.
[Related: On the darker side of trucking social media, and making a difference, with Trucker Desiree]