Trucking news and briefs for Thursday, May 18, 2023:
BP completes acquisition of TA
BP Products North America Inc., a wholly owned indirect subsidiary of BP p.l.c., completed its $1.3 billion acquisition of TravelCenters of America on Monday, May 15.
"We are thrilled to welcome the TravelCenters of America team to BP and give a turbo-boost to our convenience and mobility business in the U.S.," said Emma Delaney, BP's executive vice president customers & products. "Combining TA's sites on U.S. highways with our brilliant retail network off the highway immediately expands our offer and doubles our global convenience gross margin."
In February, BP announced it had agreed to acquire TA, subject to required approvals. Having received those approvals and with the transaction complete, TA's strategically located network of highway sites complements BP's existing predominantly off-highway convenience and mobility business in the U.S.
With the close of the acquisition, TravelCenters of America common shares have been converted into the right to receive $86 per share.
[Related: BP acquires TA for $1.3 billion]
Truckstop launches fraud prevention series
Truckstop is introducing "Fraud Prevention Friday" -- a weekly series focused on fraud in the freight industry and preventive measures. The series kicks off this week during National Transportation Week with the first iteration being held Friday, May 19.
Through weekly content thereafter on the company's social channels, the series will provide the freight industry with critical tips and best practices from Truckstop executives, the company said. The weekly information will include unique data and insights grounded in customer research and surveys commissioned by Truckstop.
The company said each week will cover a different aspect of fraud and fraud prevention, relevant to the entire trucking industry, though some of the topics will be more applicable to brokers than carriers.
[Related: Double brokering a 'cancer' requiring whole of trucking battle plan]
"Fraud is a serious problem that affects both brokers and carriers, and it continues to escalate as the market experiences significant fluctuations," said Julia Laurin, chief product officer, Truckstop. "Through product offerings like RMIS and informative resources such as Fraud Prevention Friday, Truckstop is empowering those in the freight transportation industry with the tools they need to help combat fraud in their business."
According to a recent survey commissioned by Truckstop on the issue of fraud, 78% of brokers spend significant time resolving fraud-related issues. Further, 65% of brokers reported a loss in productivity due to resolving fraud-related issues, while 25% have had to spend time dealing with legal implications.
Another point of concern within the industry -- double brokering was reported by respondents as the most common fraud they experienced (90%), with stolen loads (28%), identity theft (23%) and stolen payments (15%) also listed as important concerns.
[Related: 'Fraud epidemic': Congress gets earful on double brokering, speed limiters, more]
Bill looks to increase participation in under-21 pilot program
Bipartisan legislation introduced into the House Wednesday seeks to spur participation in the Safe Driver Apprenticeship Pilot Program (SDAP), a truck driver recruiting initiative that to date has seen very little participation.
The SDAP allows drivers under the age of 21 to drive interstate under certain conditions. Launched in 2022, the program was capped at 3,000 participating drivers at any one time, but fewer than a dozen driver participants have enrolled, according to the American Trucking Associations. Currently, 16 fleets have been approved to hire drivers for the SDAP program.
ATA President and CEO Chris Spear said the program's failure is partly due to extraneous Department of Transportation requirements for program participation -- driver-facing camera use, for instance, and motor carriers must be part of a Department of Labor-approved Registered Apprenticeship Program (RAP). Such requirements were not stipulated by the 2021 infrastructure bill that established the program.
Spear said the last-minute technology requirements from the DOT "prompted several motor carriers to decline participation in the program altogether."
The new DRIVE Safe Integrity Act -- introduced by Representatives Rick Crawford (R-Arkansas) and Henry Cuellar (D-Texas) -- aims to require DOT take corrective actions to improve participation in the SDAP and provide Congress detailed reports on SDAP's status and corrective actions taken.
Spear believed the bill would "steer the Safe Driver Apprenticeship Pilot Program back to the course Congress originally intended."
International Foodservice Distributors Association President and CEO Mark Allen, whose organization also supports the new bill, said the last three years have proven how important truck drivers are to the economy "and how urgently we need to develop a pipeline of qualified, well-trained professional drivers to meet our nation's growing freight needs."
Upon the sunset of the pilot program, the bill calls for DOT to review the safety data and issue regulations for a permanent apprenticeship program for commercial drivers between the ages of 18 and 20.
[Related: Are under-21 interstate drivers worth the hassle?]
Georgia-based small bulk fleet acquired by Eagle Transport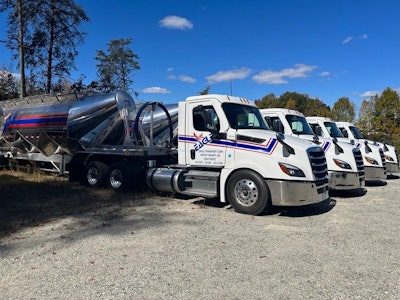 Petroleum and chemical hauler Eagle Transport Corporation announced it is acquiring Dalton, Georgia-based Bulk Carriers. Since 1998, Bulk Carriers has provided quality dry bulk transportation services to a variety of regional industries.
Eagle Transport has continued to scale its company footprint, services and operational capabilities in recent years through a combination of strategic acquisitions and organic growth initiatives. Eagle continues to grow and deliver customer-focused transportation solutions within the petroleum, chemical and hazardous materials sectors.
"Bulk Carriers is a highly respected leader in the dry bulk logistics market, with a long reputation of service and safety," said Lance Collette, president & COO of Eagle Transport. "We are excited to welcome their team into the Eagle family. This acquisition supports our strategy of providing an even greater level of service to our growing list of dry bulk clients."
According to the Federal Motor Carrier Safety Administration's SAFER system, Bulk Carriers has 22 trucks and 22 drivers.
Bulk Carriers President Kevin Brown said his company is "excited to move into the next phase of high-quality customer service as we merge with Eagle Transport Corporation."
[Related: A run with dry-bulk hauler John McCormick and his 'Bandit' '21 W900L]