Trucking news and briefs for Thursday, Feb. 16, 2023:
TA acquired by BP
BP Products North America, a subsidiary of London-based BP p.l.c., has agreed Thursday to a $1.3 billion deal to acquire TravelCenters of America Inc., the operator and franchisor of the TA, Petro Stopping Centers and TA Express travel center brands.
The acquisition -- valued at $86 per share (an 84% premium to the average trading price of the prior 30 days) -- is a result of the successful implementation of the company's turnaround and strategic plans, said TA's Chief Executive Officer Jonathan M. Pertchik. "We have improved our core travel center business, expanded our network, launched eTA to prepare for the future of alternative fuels and improved our operating and financial results, none of which we could have accomplished without the hard work and dedication of our employees at every level."
BP was not the only suitor for the truck stop chain. The company said it received unsolicited interest to be acquired and ultimately went through multiple "competitive rounds of bidding from potential buyers that resulted in the transaction announced [Thursday]."
The sale still has to be approved by shareholders who own a majority of TA's shares outstanding. Service Properties Trust, which owns 7.8% of TA's shares outstanding, and The RMR Group (4.1%) both have agreed to vote their shares in favor of the sale.
The transaction was unanimously approved by the TA Board of Directors.
In the deal, BP gains a network of around 280 travel centers strategically located on major highways across 44 U.S. states, complementing its convenience and mobility business.
On Wednesday the company announced plans to invest $1 billion in EV charging across the U.S. by 2030 and CEO Bernard Looney said onboarding TravelCenters of America "will allow us to advance four of our five strategic transition growth engines. By enabling growth in EV charging, biofuels and RNG and later hydrogen, we can help our customers decarbonize their fleets. It's a compelling combination."
[Related: Today's narrow paths to electric powertrains for small trucking]
Carriers' conditions improved in December on heels of falling diesel prices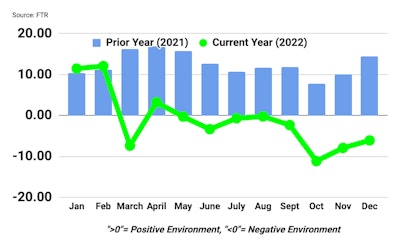 Conditions for carriers in December improved to -6.1 from November's -7.94 reading, according to FTR's monthly long-term look at the business environment, its Trucking Conditions Index (TCI). FTR noted, however, that the small gain resulted solely from a sharp drop in diesel prices during the month.
Changes in all freight-related TCI components -- freight volume, capacity utilization, and freight rates -- were unfavorable for carriers in December. The rates component was the most negative it had been since May 2020.
The outlook is for mostly similar TCI readings through 2023 with no positive readings expected until late 2024. "Our forecasts indicate continued deterioration in overall market conditions for trucking companies, but uncertainly is still surprisingly high considering that we are nearly three years past the pandemic-induced contraction," said Avery Vise, FTR's vice president of trucking. "Even as record numbers of small for-hire carriers exit the market, payroll job growth in trucking continues to rise, suggesting that overall driver capacity is not falling much -- if at all -- so far."
Vise added that while that trend looks good in the near term, "it could limit carriers' margin gains in the next upturn."
Freight rates, Vise noted, are generally weakening, but contract rates remain "significantly higher than the peak of the last cycle. Carriers' ability to manage costs always is key to profitability but perhaps never more so than now."
[Related: One way to be 'as bad as an accountant' on costs to ensure long-term success]
Florida universities want driver feedback on severe-weather parking
Two Florida universities are conducting a survey of truckers as part of efforts to identify safe truck parking during dangerous weather.
The study, conducted by the Herbert Wertheim College of Engineering at the University of Florida and the College of Engineering and Computer Science at Florida Atlantic University, will identify potential opportunities and challenges associated with identifying potential emergency parking locations throughout Florida to ensure the safety of drivers and their trucks during severe weather events.
Severe weather events are defined in the study as any dangerous weather event with the potential to cause damage or serious disruption, such as a hurricane, heavy precipitation, fog, fire smoke, or high winds. Such events of course often enough yield unsafe driving conditions, necessitating a safe emergency parking location.
The survey defines such a location as a site designated and reserved for parking trucks during a severe weather event until the drivers can resume normal operations. These locations will be in support of the existing public and private truck parking network. These locations would be available and free for any truck driver until they can resume normal operations.
"As a professional with first-hand experience in the trucking industry in Florida, your participation in this survey will help us identify and prioritize potential emergency truck parking locations to ensure the safety of drivers and their trucks during severe weather events," researchers said.
The survey does not include any questions about your personal or institutional identity. The collected data will be summarized for reporting purposes.
[Related: Truck parking 'still a problem in every state' and worsening]