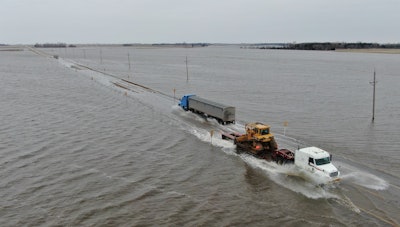 North Dakota DOT
Just about everyone from political elites to dump truck drivers in the Southeast can agree on one thing: A change is coming, and it's coming in the wind. Call it climate change, call it an act of God, call it whatever you want, but those winds have been blowing for some time, and extreme weather events pile up with increasing frequency and intensity. Owner-ops face it down on the open road -- or even at home.
Out West, the pace and scope of wildfires has increased, Texas froze over in 2021, snow and ice completely shut down I-95 in Virginia for more than a day in January, and heavy fog has caused pile-ups across the country.
Headline-inducing events are head-turning, of course, but in some senses the new routine is the same as the old. As any over-the-road professional well knows, weather's always a day-to-day consideration. Yet there's new urgency to route planning.
Take the month of April, for example: 2022 saw the windiest April in the Dallas-Fort Worth area, and also in Midland, Texas, and also in Iowa, Indiana, Missouri, Colorado, South Dakota, and just about everywhere else.
Chuck Winborn, a Birmingham, Alabama-based owner-operator, absolutely rejects the popular notion of climate change, but nonetheless, his business hauling asphalt for interstate paving means he's extremely tuned in to the wind, with a "a 35-foot frameless trailer," he said. "And if I raise it, it's an aluminum trailer, and the wind is gusting... A frameless trailer doesn't have a whole lot of integrity once you get it in the air. The word is that it's not if, but when you're gonna turn a trailer over."
Not that he's hit that when just yet. "In five years I've never turned one over."
"I'm really cautious about it. If I turn a trailer over, I can't just go find another. I've got to go to the shop and get it repaired," he said, referencing ongoing trailer equipment shortages.
[Related: To own or not to own a trailer: How COVID fast-tracked an explosion in power-only trucking]
So far this year, Alabama has seen more than 120 tornado watches, more than any other state. According to Winborn, the weather has about as much say in his schedule as he does.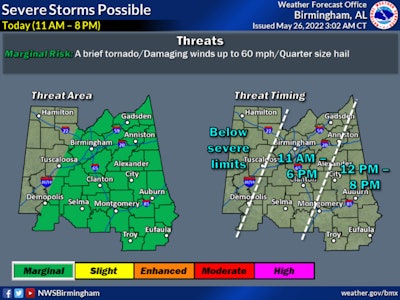 "Hauling the asphalt is a seasonal thing, because when you're hauling asphalt for the interstate Alabama won't allow you to work in anything below 60 degrees. If it's 60 or cooler, they won't allow us to lay asphalt in the interstate," he said. "That stuff is 325 degrees, so you don't need a driving rain cooling that down. Usually if it starts raining they'll call it."
But, like so many resourceful owners, Winborn finds plenty of other gigs for his equipment when weather gets in the way. "Usually I'll stop hauling asphalt around Thanksgiving until the weather starts turning that's when I'll go and haul other forms of aggregate like rock, sand, or coke."
Windburn remembered close calls over his 38-year career. These included episodes before he was pulling dump trailers, hauling military explosives in high winds, having "wind gusting to the point that it was lifting my trailer up off the ground," seeing debris from a tornado fly around his truck and having to park facing the wind to avoid getting blown over.
"I would literally turn my truck where it was facing into the wind -- that 53-foot container is like a sail," he said. "I parked at a dealership with a big American flag and I could see the direction the wind was blowing in in the big parking lot, so I turned my truck into the wind to where it wouldn't blow over."
For the most part, however, Winborn gets things done rain or shine, as does owner-operator Howard Salmon of Anderson, California. Salmon, who mostly hauls reefer in a 1999 Kenworth W9 with beautifully reclaimed wood on the interior, said the biggest impact of extreme weather didn't hit his business, but his home life.
While Salmon has no small amount of winter driving experience, likewise operation through and around wildfires, living in a drought-stricken area colors his day to day experience much more.
"Lake Shasta is like a creek, it's really bad," said Salmon. "They stopped the production of rice this year because they need a lot of water. The drought is affecting a lot of people." Wildfires, too, impact businesses in the area, with subsequent impacts on freight out of the area. "Lumber mills," Salmon added. "Sometimes they go up in flames."
[Related: Winter trucking tips that could actually save a life]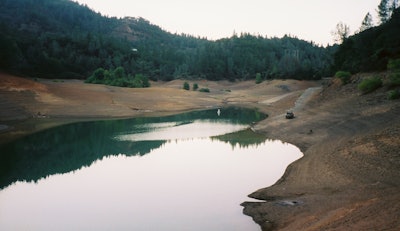 Though Salmon makes his living delivering fresh produce and other refrigerated products to distribution centers and stores, working through a principal broker, he now faces some bare shelves at his local stores. "Groceries have to get [their products] somewhere," he said. Given drought conditions in California, "right now the impact is a lack of food on shelves."
Simultaneously, the business environment with its soaring fuel and parts costs challenges his livelihood, along with nature.
While trucking gets plenty incoming flack for its carbon footprint and reliance on fossil fuels, Salmon urged those outside looking in to consider his rig's fuel mileage, consistently 6 mpg -- at West Coast diesel prices about a dollar a mile in fuel costs to run -- and "understand that I'm trying to do the bare minimum to survive and get my groceries and get the groceries to the store," he said.
Overall, for Salmon extreme weather lately looks like "not much more than a sunny day" as California languishes in a years-long drought. Last year's extensive wildfires came quite close to his neighborhood, though never crossing a river between his property and the closest fire. He's certainly seen the increasing pace of wildfires and joked about the "pucker power" of incredible winds out on the plains, but Salmon's just like the rest of us when it comes to the weather: An observer, playing with the cards he's dealt.
These owner-operators perform the absolutely essential, non-negotiable tasks of feeding our communities and building our roads. In doing so, they struggle as much with the weather as anybody. As long as stores still need produce, and roads still need paving, they'll head into the storm to get it done.
[Related: Are truckers protected by law from refusing to drive in bad weather?]