Trucking news and briefs for Wednesday, May 25, 2022:
Cargo theft expected to increase over holiday weekend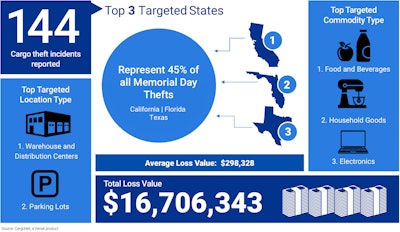 Cargo theft recording firm CargoNet expects a significant threat to freight transportation this upcoming Memorial Day weekend.
CargoNet reviewed theft data from 2017 to 2021 for the Thursday prior to Memorial Day to the Wednesday after in order to help supply chain professionals mitigate theft.
There were 144 events reported with an average of 29 events per year. The stolen cargo in each event was worth an average of $298,328 -- due in part to five thefts that exceeded $1 million in property stolen.
Twenty-one percent of recorded thefts occurred on Friday of Memorial Day weekend, and a significant amount of thefts also occurred on Sunday (16%) and Monday (15%), the firm found.
Food and beverage items were the most stolen, and cargo thieves targeted a wide range of products in this category. The most common were alcoholic beverages, seafood products and meat products. Electronics were not a significant target in previous years, but such shipments are considerably more attractive this upcoming holiday due to supply chain disruptions, CargoNet added.
Theft activity in the first quarter of 2022 was just over 15% higher than pre-pandemic levels, and CargoNet's analysts expect theft activity to remain elevated this Memorial Day weekend.
"We continue to be concerned about the increase in rail thefts and targeting of computer electronics shipments shipping from California, as well as a breakout of full truckload cargo thefts spreading across the eastern half of the United States," the firm said.
In previous years, household goods and food and beverage items were the most commonly targeted commodities. This would include items like appliances, toys, alcoholic beverages and seafood. The COVID-19 pandemic has caused shortages and price inflation of specific goods, and CargoNet believes the items most affected -- like baby formula and computer electronics -- are among the items most at-risk over Memorial Day weekend.
Carriers and others in the supply chain can mitigate the risk of theft by arranging for same-day delivery of short-haul shipments, embedding covert tracking devices in the shipment, and using high-security locks to prevent trailer burglaries, CargoNet said. Additionally, drivers should adhere to the "red zone" rule and avoid stopping within 250 miles of pickup. Drivers should also be on the lookout for any vehicles that appear to be following them.
[Related: Heists involving identity theft and other types of fraud a growing part of cargo-theft mix]
Drivewyze adds cargo theft 'hot spot' alerts
Drivewyze has teamed up with cargo theft analytics firm Verisk to provide Cargo Theft Alerts as a value-added feature in its Safety+ service.
Drivewyze Safety+ is an in-cab product that provides context-based, proactive, customizable, driver safety notifications through existing ELDs or telematics devices.
The collaboration with Verisk, provider of CargoNet, enabled the theft "hot spot" alerts. With Cargo Theft Alerts, drivers are notified when approaching one of the top 50 riskiest parking locations and top 50 riskiest counties in the country.
Safety+ will display a driver-safe visual and audible warning through the in-cab ELD or telematics device as they approach these high-risk areas. The alerts are fully automated and require no driver interaction.
Safety+ high-risk areas will be updated regularly based on the latest data from CargoNet. Subscribers will also receive Daily Hot Theft Zone Alerts, powered by CargoNet, to be informed on the latest incidents of cargo theft throughout the U.S. and Canada.
CargoNet's database receives and integrates cargo theft data from law enforcement, insurers, transportation companies, manufacturers and retailers.
Drivewyze Safety+ is a premium subscription service available on more than 2.5 million ELD devices. Safety+ subscribers can receive a heads up on high-citation areas for speeding, upcoming parking availability in select states, and high-risk areas for cargo theft. In addition, fleet managers can create customized driver safety alerts, access driver behavior analytics, and manage fleet risk.
Landstar named Fortune 500 company
Landstar System has been named for the first time to the Fortune 500 list of America's largest corporations by revenue.
With revenue of approximately $6.5 billion in fiscal year 2021, an annual record for the company, owner-operator-contractor-heavy Landstar debuted at number 491 on the list.
"The consistent strength and depth of the Landstar network is what earned the company this prestigious ranking," said Landstar President and CEO Jim Gattoni. "The ability of our independent agents and employees to scale operations and adjust to the marketplace, the power of our unique capacity network to execute, and our innovative digital tools that facilitate efficiency in freight transportation management combined flawlessly to achieve remarkable performance."
The ranking reflects Landstar's growth in 2021, and is also a testament to the company's business model that has proven successful for decades, Landstar said.
Since its initial public offering in March 1993, Landstar annual revenue has increased more than 500%, and the company has achieved a total shareholder return compound annual growth rate through May 20, 2022, of approximately 17%.
Gattoni went on to thank the company's "independent agencies, owner-operators leased to Landstar, approved third-party carriers, customers and employees who have helped us accomplish this milestone. Making the Fortune 500 was truly a team effort."