Trucking news and briefs for Wednesday, April 20, 2022:
Four more guilty pleas announced in New Orleans staged-accident fraud scheme
U.S. Attorney Duane A. Evans in the Eastern District of Louisiana recently announced four more individuals have pleaded guilty in the widespread staged-accident fraud scheme in New Orleans targeting mostly trucking companies and their insurers, bringing the total number of guilty pleas in the case to 36.
Ashley McGowan, who falsely claimed to be a passenger in a car that was struck by a tractor-trailer on June 8, 2016, pleaded guilty to one count of conspiracy to commit mail fraud, which carries a maximum penalty of five years in prison, up to three years of supervised release, and up to a $250,000 fine.
According to her indictment, McGowan was riding in a "spotter" car at the time of the collision and got into the "slammer" car involved in the crash after the collision occurred in hopes of receiving monetary settlements.
Lertrice Johnson also pleaded guilty to conspiracy to commit mail fraud and faces the same penalties as McGowan. As part of her plea, Johnson admitted her involvement in a scheme to falsely claim she was a passenger in a car that was struck by a tractor-trailer in the same crash as McGowan on June 8, 2016.
After the crash, Johnson claimed that McGowan was in the car that was struck by the tractor-trailer when she was not. Johnson also claimed that she had gone to the hospital after the collision when she had not.
Additionally, for her alleged involvement in the same crash as McGowan and Johnson, Davienque Johnson pleaded guilty to conspiracy to commit mail fraud. Her indictment said she also lied about the extent of her and others' involvement in the June 8, 2016, crash in hopes to scam the truck driver, trucking company and insurer out of money in a settlement.
Finally, for her involvement in a separate crash, Gilda Henderson pleaded guilty to conspiracy to commit mail fraud. Like McGowan, Lertrice Johnson and Davienque Johnson, Henderson falsely claimed she was a passenger in a car that was struck by a tractor-trailer on May 11, 2017. After the collision, Henderson filed a fraudulent lawsuit claiming that the tractor-trailer was at fault and lied in a deposition. This scheme caused the insurance company for the motor carrier that owned the tractor-trailer to pay more than $140,000 in settlement funds for the collision.
Rolling closures ongoing this week and next along I-10 in Phoenix
Drivers who use I-10 at night near downtown Phoenix and Sky Harbor Airport this week and next should prepare for brief rolling closures due to work to install new lane lines and other pavement markings, according to the Arizona Department of Transportation.
The intermittent overnight closures, expected to last up to 15 minutes each time in areas between 24th and Seventh streets, are scheduled from 9 p.m. to 5 a.m. this week through through Thursday night, April 21. Drivers should allow extra travel time and consider using northbound I-17 starting at the "Split" interchange near the airport as an alternate route.
Similar rolling closures are expected along both east- and westbound I-10 in the same area Sunday through Thursday nights next week, April 24-28. Drivers also should be prepared to slow down and watch for law enforcement officers, highway crews and equipment while the overnight work is underway.
Schedules are subject to change. The pavement marking upgrades are taking place following recent work to apply a sealant to extend the life of the I-10 pavement in the downtown region.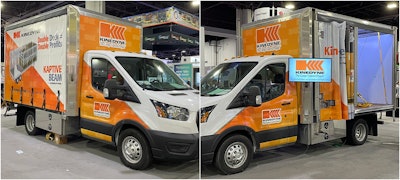 Driver honored after spotting car fire, alerting driver and extinguishing fire
Schofield Transport driver Binyam Tadele, from Baltimore, Maryland, has been named a Highway Angel by the Truckload Carriers Association for spotting a fire under a car, extinguishing it, and getting the driver out of the vehicle safely.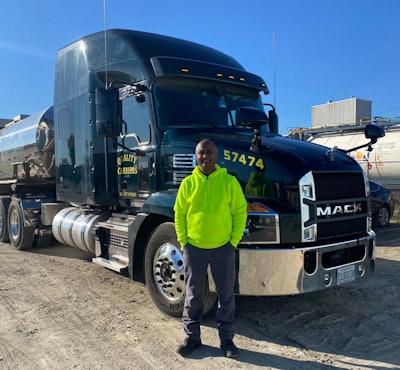 Tadele has been driving a truck for Schofield, an independent affiliate of Quality Carriers, for over four years, and recently was hauling Baltimore to Shippensburg on I-70. It was a weekday, between 7 and 8 a.m., and he was moving slowly through fog when he noticed a car that appeared to have flames coming from underneath it.
"As I'm passing, the flame started getting bigger," Tadele said. He continued to watch the car, which was pulled over, in his mirror. "The flame got worse, and the people were not coming out."
Tadele pulled over, grabbed a fire extinguisher and ran back to the smoldering car. A woman, wearing hospital scrubs, was alone in the car. He yelled at her, "Hey! Your car's on fire! You gotta get out!"
The woman, unaware of the fire, exited the vehicle, called 911, and Tadele proceeded to extinguish the fire. He said he is glad he saw the fire when it was "still small -- it could have been worse for her."
Tadele stayed with the woman until emergency crews arrived to assist.
TCA has presented him with a certificate, patches, lapel pin and truck decals. His company has also received a letter acknowledging him as a Highway Angel.