Trucking news and briefs for Tuesday, May 23, 2023:
Cargo theft, up 41% so far in 2023, expected to rise more over holiday weekend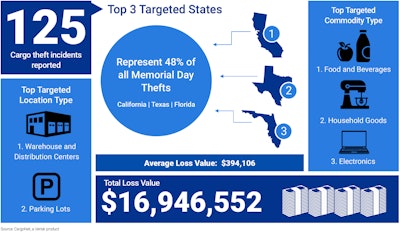 Cargo theft incidents have been on a significant uptick so far in 2023, and cargo theft recording firm CargoNet is warning truck drivers and others in the supply chain that the upcoming Memorial Day holiday weekend is likely to advance that trend.
CargoNet said that in the first 20 weeks of 2023, there have been more than 900 reports of theft, fraud, and other kinds of criminal activity in the supply chain -- a 41% increase from 2022. Since November, CargoNet has been tracking a sharp rise in highly technical shipment misdirection fraud schemes across the United States. Fictitious pickup and fraud complaints involving theft are 675% higher in the first 20 weeks of 2023 compared to the first 20 weeks of 2022.
Most of the misdirection fraud has taken place in California, the firm said, but some shipments have shipped from other states and have been misdirected to California. Southern California fictitious pickup groups have shown a preference for shipments of non-alcoholic beverages such as soda and energy drinks, alcoholic beverages, solar panels, and vehicle accessories like vehicle batteries, motor oils, tires, and auto parts. Monday and Friday were the most common days for fictitious pickups to occur.
[Related: 3 double-brokering scams that can result in theft of more than just money]
CargoNet said truckers "should be on high alert for unauthorized attempts to misdirect shipments from the intended receiver." Brokers in particular should consider using enhanced carrier qualification practices, including verifying the registered FMCSA phone number or email, monitoring FMCSA SAFER for recent MCS-150 form updates, and checking for established and positive load history. Additionally, the firm suggested that shippers "consider enhancing sign-in procedures to capture vital information about the truck and driver picking up a shipment."
CargoNet is also concerned about heightened trailer burglary and full trailer theft activity in the Eastern half of the United States, including:
Full trailer theft activity from organized cargo theft groups from South Florida that surveil warehouses across the Eastern seaboard or Midwest and follow outbound shipments until the driver leaves the trailer unattended
Full trailer theft activity in the Dallas-Fort Worth Metropolitan Area
Trailer burglary in Chicagoland area, especially around Bolingbrook, Illinois
Trailer burglary and full theft activity in the Atlanta metro
Trailer burglary and full trailer theft activity in Philadelphia
Regarding Memorial Day weekend specifically, CargoNet over the last five years has tracked a rise in theft incidents during the holiday period. For drivers, the firm said all trailers -- loaded and unloaded -- should be secured with high-security barrier seals in combination with hardened padlocks, as well as kingpin locks for unattached trailers. Unattended tractors should be secured with high-security locking devices, such as air-cuff and steering column locks.
[Related: Cargo theft saw big rise in 2022]
Roadcheck rates saw brokers nervous about covering loads, boosting spot market
As expected, according to the weekly spot market update from FTR Transportation Intelligence and load board Truckstop, the last week of the Roadcheck blitz yielded a posted-loads and rates increase and a corresponding fall in the number of truck posts.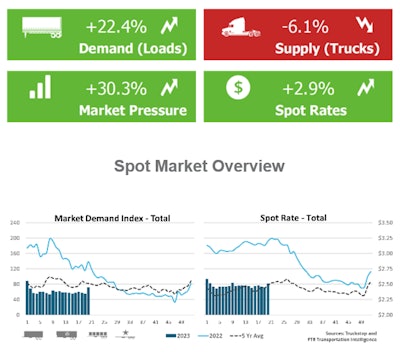 Total load-post volume jumped 22.4%, though that volume was still 44% below the same week last year and nearly 15% below the five-year average. The comparison with the five-year average is the strongest since early this year, though it's an outlier with Roadcheck.
The total broker-posted rate average rose just more 7 cents per mile, the strongest gain since the final week of 2022 for an average of a slim 1% above the five-year average.
The total market rate was nearly 22% below the same 2022 week but more than 1% above the five-year average.
[Related: 'Chicken house closed, locked up, nobody home': Wrapping Roadcheck with the Mustang]
Mack announces 2024 calendar contest winners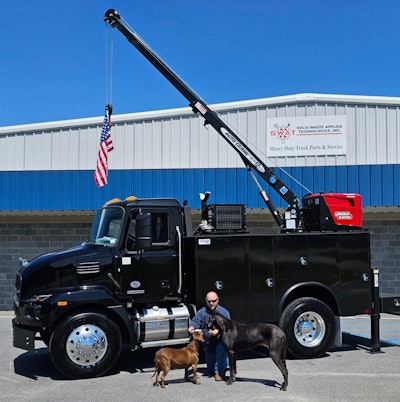 Mack Trucks announced last week the winners of the 2024 Mack Trucks Calendar Contest. Each of the winning entries will represent a month in next year's Mack calendar.
Thousands of Mack fans and followers voted online to choose the winning Mack trucks from among 171 submissions in seven separate categories. The winners will participate in a professional photo shoot set up by Mack. All entries and their photos can be viewed here.
"The response to this year's contest was fantastic," said David Galbraith, Mack Trucks vice president of brand and marketing. "We had six times the number of votes as we did in 2022, and the number of entries with dogs in support of our ASPCA sponsorship was heartwarming. Many of our dealers got involved as well by promoting their customers' entries."
Mack truck owners submitted photos of their trucks to the Mack Calendar Contest in seven categories: Mack Anthem, Pinnacle, Granite, LR, TerraPro and MD Series, plus an additional category for legacy Mack models that are no longer in production but still hard at work. This year, entrants were able to earn bonus points for including their dog in their photo or video entry.
To be eligible for the calendar, each truck, including the legacy models, must currently be in operation in a business or trucking company; the truck must be in routine use; and trucks may not be collector or show trucks that are no longer licensed for commercial use. The winning entries in each category are:
Granite
Tas Trucking, Inc., Kitchener, Ontario, Canada
Silverline Group, Inc., Thorold, Ontario, Canada
Anthem
Growmark FS, Manson, Iowa
McNeilus Steel, Inc., Dodge Center, Minnesota
MD Series
Fogel's Fuel Service, Bangor, Pennsylvania
Solid Waste Applied Technologies (SWAT), Inc., Statesboro, Georgia
Pinnacle
Marty Kissick, owner-operator with Northwest Tank Lines, Calgary, Alberta, Canada
Scott Schappaugh, Schappaugh Trucking, LLC, Hannibal, Missouri
LR
Amwaste, LLC, West Point, Georgia
TerraPro
Cyclone Trucking, The Colony, Texas
Legacy -- Old Bulldogs Still Hard at Work
1987 Mack RW713, Coastal Trucking, Ladysmith, British Columbia, Canada
1987 Mack Superliner, Rosemar Construction, East Moriches, New York
Driver recognized for stopping to help fellow trucker who crashed
The Truckload Carriers Association has named truck driver Terry Whittington, out of Victorville, California, a Highway Angel for stopping to help a fellow trucker whose truck crashed into a ditch on the side of a highway in the middle of the night. Whittington works for ABF Freight out of Fort Smith, Arkansas.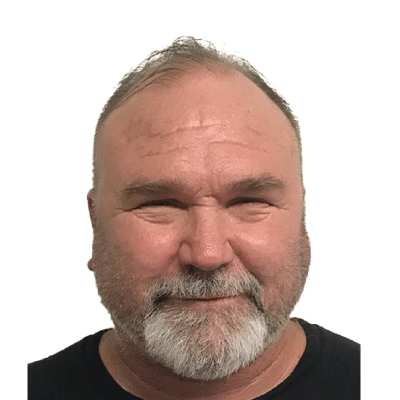 On March 11 at 2:40 a.m., Whittington was on I-40 near the Kelbaker exit in Amboy, California, when he witnessed another truck lose control.
"The guy almost ran into me," he said. "He was doing about 80, he kept going back and forth, and then he went off into the ditch -- he never hit his breaks."
Whittington pulled over to the side of the road, called 911, and went down in the ditch where the truck crashed and waited with him. He believes the driver fell asleep at the wheel.
"He was still half asleep after the whole ordeal," he said about the trucker after the California Highway Patrol pulled him out of his truck, uninjured. "The truck and trailer were severely damaged -- it was a violent crash."
A truck driver for the past 25 years, Whittington said if he had not witnessed the crash, the site would have been hidden from passersby on the highway.
"If you crash, I'll stop every time to help," he said. "I've just always stopped."