Trucking news and briefs for Friday, May 19, 2023:
Coalition voices opposition to heavier trucks
A coalition of groups, including the Owner-Operator Independent Drivers Association and the International Brotherhood of Teamsters, penned a letter this week to House Transportation and Infrastructure Committee leaders noting the coalition's opposition to any legislation that would increase truck weight or length limits.
The Coalition Against Bigger Trucks said its opposition extends into legislation that would raise truck weight limits as part of a "pilot program," including the 91,000-pound pilot program proposed in the SHIP-IT Act.
"By any measure, our roads and bridges need continued repair, rebuilding and investment," the coalition said. The American Society of Civil Engineers' 2021 Infrastructure Report Card gave the nation's roads a "D" grade and its bridges a "C" grade, the coalition added.
"As we look to rebuild our roads and bridges, allowing heavier and longer trucks would only make matters worse," the coalition said. "The U.S. Department of Transportation studied the impact of various longer and heavier truck configurations on interstate and U.S. highways and found that the additional cost of damage to both roads and bridges would require billions of dollars in new federal spending, adding to our budget deficit."
The group asked Transportation and Infrastructure Committee leaders Sam Graves (R-Missouri) and Rick Larsen (D-Washington) to "reject any legislative language that would increase current maximum truck weight or length limits, including proposals in the form of a pilot program, state or commodity exemptions or other waivers from current federal limits."
[Related: States with the worst traffic and highways, ranked]
Ohio fleet set to make the country's first paid platooning haul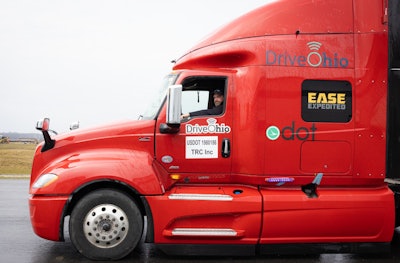 Columbus, Ohio-based EASE Logistics is set to become the first trucking fleet in the U.S. to deploy connected and automated trucking technology on revenue-generating routes.
In partnership with the Ohio Department of Transportation (ODOT) and DriveOhio's Rural Automated Driving Systems (ADS) project, EASE -- via its 10-truck EASE Expedited division -- will deploy two vehicle-to-vehicle-communication-equipped trucks in a platoon. When in platoon, the lead driver controls speed, braking and acceleration while the manned and connected following vehicle paces the lead vehicle's movement.
The trailing truck, nicknamed Tom, will feature the EASE, ODOT, and DriveOhio logos behind the lead truck, Jerry.
DriveOhio Executive Director Preeti Choudhary said the data generated by the Rural ADS project will be shared with the Federal Motor Carrier Safety Administration and the U.S. Department of Transportation to develop national ADS policies in an effort to remove barriers to the safe integration of these technologies across the U.S.
Platooning mode requires that both trucks be manned with a trained EASE driver, and the switch to automation will occur only under specific and ideal circumstances: weather, road conditions and traffic will all be taken into consideration when EASE drivers choose to engage platooning mode.
Platooning mode disengages at the discretion of both drivers, and the driver of the follower truck can override platooning mode to take manual control at any time. Platooning mode automatically disengages if a vehicle pulls between the two tethered semis.
In preparation for the deployment, EASE scrutinized and vetted specialized drivers, each having undergone a combined 400 hours of training at the Transportation Research Center, a vehicle testing provider located in Ohio. These drivers are now conducting preliminary solo runs to monitor data transmission to EASE and identify the best Ohio routes for platooning.
Trimac acquires Canadian bulk carrier
Trimac Transportation has acquired Transport Sylvain Lasalle, a provider of bulk pressure transportation services in Eastern Canada, the company announced Thursday. The Joliette and St. Hyacinthe, Quebec-based company hauls propane and butane gas for end users and distribution sites.
Trimac on Wednesday onboarded a team of new drivers and one terminal manager, and added a fleet of 28 tractors and 30 trailers.
"This strategic move allows us to expand our reach in Eastern Canada, strengthen our service capabilities, and deliver unparalleled service to our customers," said Matt Faure, President amd CEO at Trimac. "With this acquisition, we look forward to a bright future ahead."
Sylvain Lasalle, the company's founder and namesake, will assist during the transition period. Lasalle founded the company in 1993 and grew the fleet to become an authorized loader at commercial propane refineries across Quebec and Ontario.
"I am grateful to all of my employees, customers and partners who have been a part of this journey," said Lasalle. "It has been an honor to lead this company."
[Related: BP completes acquisition of TA truck stops]