Owner-operators in trucking generally have two options when it comes to sourcing freight -- brokers on the spot market or directly from the source, the shipper.
As any trucker with relatively recent experience with spot freight knows, the highs of working the load boards can be really high, as seen from late 2020 through early 2022. On the other side of that coin, however, when the market flips in favor of shippers like it has for the last 18 months or so, it can be tough to keep your business afloat.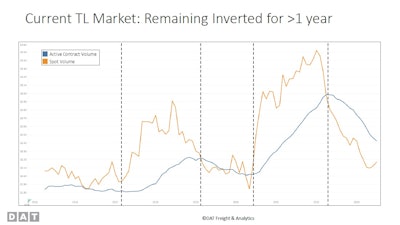 Through the end of June, trucking has seen a net loss of more than 12,500 active for-hire carriers, according to a recent analysis of Federal Motor Carrier Safety Administration data by C.H. Robinson. The report noted that about 80% of authorities revoked this year were those of one-truck carriers, with the balance mostly being small, multiunit fleets.
The market boom in 2020 and 2021 enticed more drivers to strike out on their own to become owner-operators, many with authority, and allowed current owners the revenues and opportunity to bring on more trucks, accounting for much of the growth in trucking over the period. When the market turned in shippers' favor, though, many operations relying heavily on the spot market just weren't in a position to weather the storm.
By contrast, small carriers with direct customers, whether with long-term rate contracts on paper or "working under contract on a handshake agreement," in the words of Michigan State Associate Professor Jason Miller, have been able to hang on and/or prosper as long as demand for their customers' product has remained at least somewhat stable.
Miller was speaking Thursday, August 10, as part of the shipper-centric "Journal of Commerce" publication's "Midyear Trucking Report" webcast, as was DAT Chief Scientist and MIT professor Chris Caplice when he noted a very old model for independent owner-operator and small fleet success: "Successful small carriers have a backbone of steady freight" with shippers, "and use the spot market to augment that" when necessary. One need look only to the stories of Overdrive's Small Fleet Championship semifinalists, finalists and winners over several years now for proof of that.
Direct-customer business won't always allow a carrier to maximize income in a carrier-friendly market, but in a time like the present, it can protect the business from the lowest of lows of a shipper-friendly market.
As long, that is, as rates from those customers remain stable. Shippers follow market trends, too, of course, and the days of the solely annual rate contract at the large-shipper level are on the wane. Smaller shippers that are often the bread and butter of owner-ops or small fleets aren't outliers in that regard, either. Though many will pay more than the perceived market value for dedicated trucks, when the market is down, it's down across the board, as evidenced in the chart above showing the recent cycle. Kenny Long, owner of 15-truck Patriot Star, works with a number of shipper as well as brokers, and said that he's not making the same amount from his direct customers as he was at the market's peak in 2021.
But for any owner-operator, having freight you can consistently rely on to keep your truck or trucks profitable can be the difference between staying in business -- or not.
[Related: In a tough spot market, strong relationships with those who feed you will pay off]
Finding shipper customers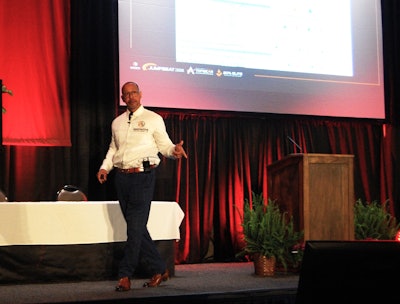 Former owner-op and small fleet owner Adam Wingfield, founder and CEO of Charlotte, North Carolina-based Innovative Logistics Group, said in a May Overdrive webinar focusing on work-life balance that one thing he often hears around the industry is that it's impossible for single-truck owner-operators and carriers with just two or three trucks to get freight direct from the source.
His own experience disproves the notion, which he dubbed "propaganda." His one-two-truck business found its footing early on after he simply got on the phone with farmers local to the area around his home base.
"The third telephone number that I talked to [ended up being a] customer that provided me with the most stability that I ever had," he said. "I had one or two trucks at that moment, but I was able to scale using that strategy. As I continued to evolve and grow, I never changed what I did. I always went out and was making phone calls."
Today, Wingfield uses the term "green mile" when talking to small fleet and owner-op clients, his phrase for the zip codes out of which you want to make your money. Search your home base and spots at the other end to find all the manufacturers, distributors and other shippers in the area. Once you get that list, ask yourself if those companies know who you are and what you do. "If not, then you're leaving some opportunities out there on the table," he said.
A similar approach worked for Overdrive's June Trucker of the Month Debbie Desiderato. She reached out to a manufacturer that she knew was close to her place in Virginia, Applied Felts. "It must have taken me three days to build up the nerve to make the call," she said.
[Related: Master management, mechanical prowess pay off for 20-year independent]
But when she did make the call, she was able to get through to a decisionmaker and was able to make an introduction, just letting them know, "I live right in your neighborhood. I go all over the country. Use me as a backup when you get stuck."
The company asked her to send over her authority and insurance information, and when she did, one of the scans was a bit blurry, so she decided to just take a copy to the shipper in person.
"I made a nice little folder with a clear copy of my insurance, authority" and other necessary information, Desiderato said. She put on a fresh T-shirt with the logo of her Walkabout Transport company "and went in there and introduced myself. That was all it took. I was off and running from that day on." As she recalls, she had a load from the company the next day.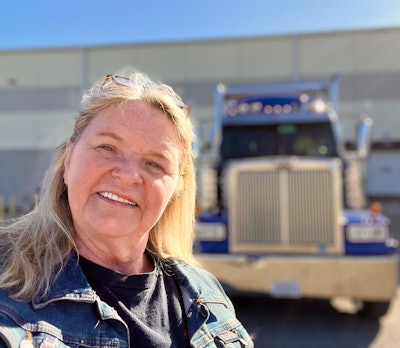 Unlike many direct-freight arrangements, Desiderato does not operate under a contract with Applied Felts. She quotes on a load-by-load basis, but because of her dedicated service, she gets well above the going market rate and as much work as she's comfortable handling.
For many a small fleet, it's the loads outbound from home that are the bread and butter, coming from direct customers. "Own your backyard" Wingfield said, but you can take the same approach to the destination area -- identifying shippers there and making sure they know who you are and what you do. Or, of course, find a broker or two with his/her own contracts with those shippers and focus your efforts on relationship-building there.
Desiderato has done just that over the years with a handful of brokers that often have loads posted in areas to which her customer sends her. "I use the spot market when I have to as a last resort," she said. "Sometimes you can still get lucky on there. Sometimes last-minute stuff will work."
Owner-operator Paul Rissler, owner of seven-truck Paul Rissler Transportation, didn't have to worry about seeking out his primary customer when he started in trucking nearly 30 years ago. His father was also a truck driver and already had an established relationship with Pennsylvania-based Dutchland Refrigerated. "I started driving at 21, I hooked up with Dutchland" through his father, "and never looked back. I never jumped," he said.
Rissler, based in California, Missouri, hauls two dedicated LTL loads a week out of Dutchland with 10 to 15 drops going to Missouri, and uses the same handful of brokers each week to get freight going back to Pennsylvania. He said he doesn't mind working for brokers "as long as they work for me."
Rissler said the consistency in pay that having a dedicated contract with Dutchland gives him keeps him comfortable in his business. "I don't like going up and down" in pay with the spot market. "I would rather stay steady." He said Dutchland is good about understanding the market and giving better rates when the spot market is up, and Rissler said he's "not going to rip off somebody because the market is way up."
Read next: How to leverage existing relationships toward direct freight
[Related: 'The spot market is not where you need to live': On building business with authority]
---
Owners looking for additional strategies toward direct freight, among a myriad of other topics, can find more in the Overdrive/ATBS-coproduced "Partners in Business" manual for new and established owner-operators, a comprehensive guide to running a small trucking business. Click here to download the updated 2023 edition of the book free of charge.