Previously: In a tough freight market, strong relationships with those who feed you will pay off
Longtime independent owner-operators Daniel and Phyllis Snow have worked the spot market consistently for the last decade or so -- that is, up until about two months ago.
Frustration with market and business difficulties led them to lease on with the Bennett Family of Companies, where they are also helping recruit drivers while on the road and attending truck shows with "The Goose," their 1996 Freightliner Classic XL.
Daniel said the spot market was all the couple had done for the last 10 years, but his point of view is different than it used to be. "The spot market is so weak right now that if you don't get in with a good company, at least to run their load boards or get their fuel discounts," it's difficult to survive as an independent.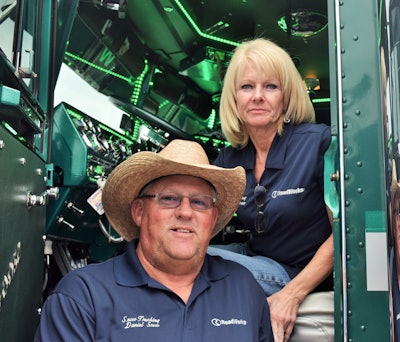 With brokers, he said, "the problem is they're your friend when they need you," but there's no loyalty when there are numerous trucks for every load.
[Related: An indie dispatcher's growing pains meet owner-op in search of service after 'every man for himself' pandemic crunch]
Owner-operator Chad Boblett looks at brokers similarly. In times like the present, when "it's not really in favor of the carrier to make great money, and searching for a decent load becomes harder, that's when I push hard to create a relationship to get the same loads over and over," he said, a strategy detailed in the previous part of this feature. "If it's other way around and the market's booming -- anywhere you go everybody's giving you $3/mile -- I'm less inclined to create that relationship because anybody's going to give you good money."
"None of this is personal. Nobody is trying to get a Christmas card. We're here for the money." --broker Pete Emahiser, Tadmore Transportation, in Part 1 of this feature.
As echoed by plenty in the brokerage world, and other owner-operators, Boblett noted it's just not personal when talking to brokers. "I don't want to be friends with you," he said. "I want to run a business and make a whole lot of money. Only when I want to be friends with you is when I really need you. I need you now, because now, the market's gone down and it's hard to find freight. Now I'll play that game."
He said that's a two-way street, and most brokers operate the same way. If you're working with a broker to get a load and "someone calls and says they'll do it $50 cheaper, that's canceled. The broker had zero care for you. That's $50 more going into their pocket, and that's why you didn't get the load."
Yet Phyllis and Daniel Snow feel like something may have changed fundamentally for the worse among brokerages. Phyllis said creating advantages with relationships during this down cycle had been much more difficult than in the past just given increased turnover at brokerages. "They're going through agents like crazy," she said. "We had some good relationships with some agents that would call us" on loads, "but they're losing their jobs, too. You can't rely on that anymore. It's a totally different world out there."
Daniel added that with so much of the brokerage industry going automated, it's making relationships that have been built less valuable, too. "There's no human relationship there," he said. "Computer contact is all you have. If we don't deal with companies direct, it's just not going to work very well."
[Related: 'The spot market is not where you need to live': On building steady business with authority, growth, more]
Yet negotiation can still be effective where algorithms and book-now buttons haven't taken over the game.
Negotiation's a two-way street -- not one-size-fits-all
When it comes to making the push for a better rate successful, every situation commands its own tactics, said Suprise Trucking owner-operator Bryon Stoll. There's no one-size-fits-all answer, Stoll said. The biggest thing you can do for yourself, though, is know the market and know the lanes you're trying to run.
Go into a conversation with any broker with data about what the lane pays on average, and leverage that to your advantage.
Owner-operator Boblett uses the DAT board to monitor as much data as it will offer on any particular lane he's looking at. "I already know when I call a broker ... DAT is going to tell you what the 15-day rate average is in most cases, and often if it's a popular lane, it'll tell you down to the three-day average." Go to the broker armed with that data to get the rate you need to move the load, he said. "I'm going to know what the prices are for that lane. I want to be right there above average. When demand is low, I might be a little softer on the average," but never below that average.
History with a broker is also a big factor, Stoll said. "Sometimes it's worth taking a hit for the first few loads" you do with a broker before it pays off down the road.
[Related: Spot market at bottom, contract continuing to fall: FTR]
If you need a little more on a rate to move a load, explain why exactly that is rather than just flat-out asking for it, he added, offering this as a for-instance: "This is a negative-20 [reefer] load and it's 120 degrees outside, I'm going to burn through reefer fuel like crazy. Can I get an extra $100?"
Ultimately, though, "you might have the best reason in the world why you ask for more," and will still be told no, Stoll said. "It might come down to, 'You know my rate. If you don't like it, find a different truck. If you want to pay it, call me back.'" Sometimes, Stoll said that might get them to move on the rate, other times not. But you have to know your numbers and stick to it, he said.
Tyler Johnston, director of operations for Mercer Transportation, said during a presentation at the 2023 Mid-America Trucking Show that brokers want to open a conversation with a carrier with information that will help lead to a decision. That could be any of the aforementioned data points but also more about your equipment, available hours, discussion of current location and more.
Additionally, he added, a carrier who knows the market will help the broker come to a decision faster, which benefits everyone involved.
[Related: Understanding costs/profit in relation to time for better load evaluations]
---
Owners looking for additional business tips, including spot-market-related insight among a myriad of other topics, can find more in the Overdrive/ATBS-coproduced "Partners in Business" manual for new and established owner-operators, a comprehensive guide to running a small trucking business. Click here to download the updated 2023 edition of the book free of charge.