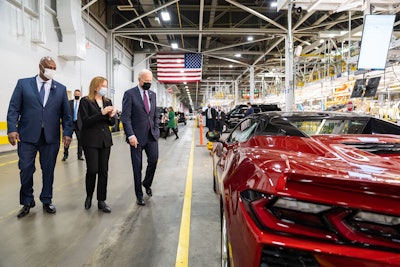 White House
As 13,000 United Auto Worker union members began to roll out an unprecedented strike against all three major Detroit automakers on Friday, the American Trucking Associations' leader had strong words for both the union and the Biden administration.
"Is this what the most pro-union president in history wants for America? Putting companies out of business, people out of jobs, work stoppages and now crippling strikes? If this is our future, we want nothing to do with it," ATA President Chris Spear said in a statement.
"Does anyone think demanding a 40% pay raise is reasonable, let alone realistic? Nor is a four-day work week, paid at 40 hours. How exactly do you assemble vehicles without your employees present?"
The UAW strike comes after a summer of heavy union activity in and around the trucking and automotive industries. The International Brotherhood of Teamsters renegotiated lucrative contracts at UPS and narrowly avoided striking at TForce Freight. Yellow Chief Executive Officer Darren Hawkins credited IBT leadership with "literally driving our company out of business, despite every effort to work with them."
Ford, in a statement on Thursday, said that UAW did not offer a "substantive counterproposal to Ford" until a "few hours from the expiration of the current four-year collective bargain agreement." Ford said it offered "historically generous" and "large wage increases, cost of living adjustments, more paid time off, additional retirement contributions and more" to the UAW workers.
GM's Mary Barra in a statement said it had offered UAW workers a 20% wage increase, COLA adjustments, and increased retirement benefits.
"The UAW needs to stop showboating off the heels of this administration's union-biased agenda, come to the table, and put our nation's economy first," Spear said.
President Joe Biden addressed the nation on Friday, saying that while the automakers had made "significant" offers, it wasn't enough. "Auto companies have seen record profits, including the last few years because of the extraordinary skill and sacrifices of UAW workers," he said. "Those record profits have not been shared fairly."
Potential UAW strike impacts on trucking, EV transition
Douglas Kent, executive vice president of Strategy and Alliances at the Association for Supply Chain Management, recently told CCJ the big three Detroit automakers represent 3% of GDP, so "every day is a multimillion dollar loss in the economy" during the strike. The direct impact on the trucking industry, however, remains unclear.
[Related: What a strike by UAW could mean for the economy, trucking]
DBRS Morningstar, a credit rating agency, didn't seem to think the strike would make major economic waves.
"While the UAW strike actions could prove quite costly for the Detroit 3, we currently do not expect such to result in negative credit implications sufficient to result in a change in the ratings on GM, Ford, or Stellantis," said Robert Streda, Senior Vice President, Diversified Industries at DBRS Morningstar. "The respective liquidity positions of these companies are at strong levels that we believe will be sufficient to absorb any potential cash burn resulting from the strikes."
The strike may put the Biden administration in an awkward position for a few reasons. Biden predicted in a Labor Day speech that UAW would not strike. Now, the strike threatens his administration's desired EV transition.
"We will not let the EV industry be built on the backs of workers making poverty wages while CEOs line their pockets with government subsidies," noted UAW President Shawn Fain and progressive Congressman Ro Khanna in a co-authored op-ed. "There is no good reason why EV manufacturing can't be the gateway to the middle class."
Fain and Khanna seemed to set their sights even beyond the Detroit 3, and perhaps at Tesla, the only major non-union car manufacturer of EVs: "Our priority is safe, family-wage jobs, not only building engines at legacy automakers, but also battery cells at EV startups. The electric vehicle future must be union made. We can have both economic and climate justice -- and that starts by ensuring that the electric vehicle industry is entirely unionized and that EV jobs come with union standards," they wrote.
"Tesla is the clear winner in this unfortunate situation now developing in Detroit," WedBush Securities told Axios.