Trucking news and briefs for Friday, Sept. 15, 2023:
BNSF Logistics brokerage bought by J.B. Hunt to expand service
J.B. Hunt Transport Services and Burlington Northern Santa Fe (BNSF) announced J.B. Hunt's subsidiary, J.B. Hunt Transport, has entered into a definitive agreement to acquire the brokerage operations of BNSF Logistics. Terms of the deal were not disclosed.
BNSF Logistics is an affiliate of BNSF Railway Company, providing third-party logistics services for the movement of full truckload, flatbed, temp-controlled, drayage, expedited, and less-than-truckload services to a large and diverse group of customers through both an employee and agent model. BNSF Logistics also provides warehouse, retail specialty, heavy-haul and project services, which are not included in the transaction.
"As we continue to work with BNSF Railway to develop solutions that drive value for customers, we recognized a unique opportunity to combine the companies' efforts to serve the transportation market with 3PL services and leverage the investments J.B. Hunt has made in our technology platform, J.B. Hunt 360," said John Roberts, CEO of J.B. Hunt.
Following the closing of the transaction, the brokerage operations of BNSF Logistics will roll into J.B. Hunt's Integrated Capacity Solutions (ICS) for segment reporting purposes. The transaction will be funded using J.B. Hunt's existing cash balance and is expected to close before year-end.
BNSF Logistics provides value-added 3PL services for BNSF Railway. Upon closing the transaction, BNSF Railway and J.B. Hunt will enter into a long-term service agreement in which J.B. Hunt will continue to provide those services for BNSF Railway.
J.B. Hunt and the company now known as BNSF Railway have been working together for decades, developing in 1989 a double-stack shipping solution that would complement both rail and trucking services, a first for modern transportation. In March 2022, the two companies launched a joint effort to substantially improve capacity in the intermodal marketplace.
The day prior to the deal being announced, J.B. Hunt President Shelley Simpson said at an investor conference that she believes trucking may now be "coming out of a freight recession," adding that customers "are cautiously optimistic about the rest of the year."
[Related: Fruehauf trailer parent acquires East]
I-95 closures resume tonight
As reported last week, ongoing work on I-95 in Rhode Island continues through this weekend before concluding Monday, Sept. 18.
Lane closures will be in place for I-95 near Route 10/Exit 33 at the Cranston/Providence line for replacement of the Wellington Avenue Bridge. The Rhode Island DOT said drivers should expect delays and use alternate routes such as Route 10 and I-295. This will be the fourth and final weekend closure.
Beginning at 7 p.m. Friday, Sept. 15, the two right lanes on I-95 North and the left lane on I-95 South will be closed. Additionally, the ramps from Route 10 North and Route 10 South to I-95 North will be closed. Drivers should remain on Route 10 North onto the Route 6/10 Connector toward Providence, or seek alternate routes.
All lanes will be reopened by 5 a.m. Monday, Sept. 18.
Goodyear accepting nominations for 40th Highway Hero award, expects two winners to commemorate
In celebration of National Truck Driver Appreciation Week and the 40th year of the Goodyear Highway Hero Award, the Goodyear Tire & Rubber Company has opened entries for the 2023 Highway Hero Award.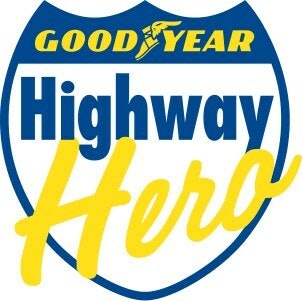 Since 1983, Goodyear has been recognizing commercial truck drivers who go above and beyond their regular duties to keep our highways safe.
"Commercial truck drivers fulfill an important, vital job for our country and communities. Nearly every aspect of our daily lives is made possible thanks to a commercial truck driver," said Dave Beasley, vice president, North America Commercial. "This year, to celebrate Goodyear's 125th anniversary, we want to acknowledge even more of those who go above and beyond to keep America moving, whether it's on the highways, on job sites or in our communities."
To commemorate the milestone year, Goodyear for the first time in the Highway Hero Award's history will select two winners from a wider pool of commercial drivers than ever before. Now through Dec. 31, 2023, Goodyear is inviting nominations for truckers with a CDL who went above and beyond the call of duty to help others on the road, regardless of whether in a long-haul truck, a dump truck or certain regional delivery and vocational vehicles.
Those who wish to enter or nominate a driver can use the nomination form to share the story. Goodyear will determine an approved list of nominees from which a panel of judges will select two winners and up to four finalists.
Goodyear will announce the award winners in early 2024, honoring the drivers with cash prizes, a Goodyear prize package including travel and hotel expense for a trip to New Orleans for a winner announcement at the Technology & Maintenance Council (TMC) Annual Meeting & Transportation Technology Exhibition in March. Up to four runners-up will also receive a cash prize and Goodyear prize packages.
Eligible nominees for this year's award must be a full-time commercial driver with a valid CDL, reside in the U.S. or Canada and be actively operating a commercial, infrastructure, vocational vehicle or non-lifesaving emergency vehicle with rim size greater than 19 inches. The driver must also be on the job at the time of the heroic incident, and the act must have occurred between Jan. 1, 2023, and Dec. 31, 2023.
[Related: TCA 'Highway Angel' honor revoked: Driver did not rescue 'kids in cages' from smugglers]
FMCSA awards grants for improving CDL licensing process
The Federal Motor Carrier Safety Administration on Sept. 14 announced it will award approximately $48 million in grant funding to increase commercial driver's license driver training opportunities and continue to improve the process to obtain a CDL.
"Every day, we all count on food, clothing, medicine, and other goods that reach us thanks to America's truck drivers," said U.S. Transportation Secretary Pete Buttigieg. "With these grants, we are helping states bring more well-trained drivers into this essential field, strengthening our supply chains for years to come."
FMCSA is awarding more than $44 million to states and other entities to operate national CDL programs through the Commercial Driver's License Program Implementation (CDLPI) grant. This will help states expedite CDL issuance and renewals and ensure states electronically exchange conviction and disqualification data. FMCSA noted that data pertains primarily to motor vehicle traffic control-related convictions and other convictions and disqualifications outlined in 49 CFR 383.51 and not all conviction data.
The funding will also implement regulatory safety requirements supporting the National Roadway Safety Strategy and develop human trafficking outreach and education materials for CDL drivers. Examples of projects funded include hiring state personnel to reduce CDL skills testing delays, improving CDL reporting, maintaining accurate driver records, and training CDL skills test examiners.
FMCSA noted a more than $3 million investment from the 2021 infrastructure legislation means, also, that Commercial Motor Vehicle Operator Safety Training grant (CMVOST) recipients will increase their capacity to train veterans and their family members, individuals from underserved and refugee communities, and other Americans to safely operate CMVs, obtain their CDLs, and enter the truck and bus driving profession.
[Related: Two more ELDs revoked by FMCSA]