Alberta and Saskatchewan remain holdouts among Canadian provinces when it comes to adoption of the Canadian federal electronic logging device mandate for in-province-only carriers, noted Mike Millian, president of the Private Motor Truck Council of Canada. Speaking as part of an online seminar Wednesday, Sept. 13, Millian stressed that by the beginning of next year the remainder of Canadian provinces and territories will have their own intra-provincial ELD mandates in place and ready to enforce.
"Nova Scotia is beginning Jan. 1," he said, also noting Newfoundland plans to begin enforcing its ELD mandate for in-province carriers Dec. 1, as shown in the chart, where effective dates on the righthand side are for the Provincial ELD mandates.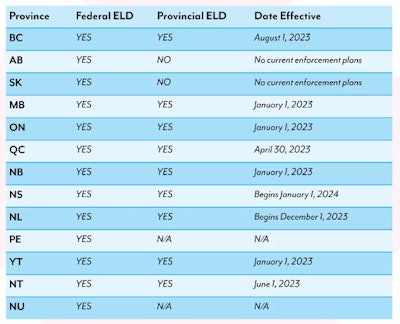 Keep in mind, though, Millian added, "even if they're not enforcing for provincially-regulated carriers, they are enforcing for federally-regulated carriers," and that includes inspectors and officers in Alberta and Saskatchewan.
Since the Canadian ELD mandate began being enforced Jan. 1 of this year, third-party-certified devices available to use there have multiplied in Canada's ELD registry. As noted in multiple prior reports, ELDs must be third-party certified under Canadian rules, unlike in the United States. That reality early on set back Canada's enforcement and implementation timelines. Since Overdrive's last update, when the Canadian approved-device registry featured 58 devices from companies, numbers have nearly doubled to "97 certified devices from 43 manufacturers," Millian said Wednesday. That's in spite of one third-party certification company currently exiting the business, he added.
That exit "will have an effect" down the line, he added, as all certified devices need to go through routine retesting processes, but it shouldn't "be that big of a deal."
Brent McInnis, representing the Geotab ELD provider during the presentation, noted his company continued to account for intra-provincial rules in the product, noting special regs for in-province log-haulers in British Columbia, for instance. The ELD mandate for in-province carriers in British Columbia has come into play as of Aug. 1, he said, noting it was a good example of special rule sets his company has had to account for as provincial mandates come into play.
One notable exception is that ELD technical specifications in the federal regs do not account for the ferry exemption in the hours regs. Millian described that as allowing for inclusion of time stopped before getting on a ferry, then driving 30 minutes after disembarking, in a rest period. Yet not accounting for that technicality in the ELD technical specifications means that devices don't allow for it, with potential for it to be flagged by the device as a violation. U.S. haulers might look at it as somewhat analogous to the difficulty ELD providers had with the Federal Motor Carrier Safety Administration's change to split-sleeper accounting when the change came into play three years ago.
"I'm not confident [the ferry exemption[ will be addressed in the technical standard," Millian said of in-process update to the standards. "We've asked for enforcement guidance" instead. "Without it, each officer can interpret this differently. This would all help drivers and carriers and providers, and officers. I'm not confident, but I'm hopeful."
Another topic addressed in the Wednesday webinar flagged key differences in Canadian short-haul ELD exceptions compared to U.S. regulations. In Canada, if a carrier exceeds the 160-kilometer radius on just a single day, that carrier will need an ELD. In the U.S. as long as a carrier doesn't operate beyond the short-haul radius more than 8 days in a rolling 30-day period, paper logs are permissible.
[Related: 2020's split-sleeper change: FMCSA's greatest hit?]