Trucking news and briefs for Tuesday, Aug. 29, 2023:
Carrier 'Safety Fitness Determination' potential revamp is official. The comment period opened today
As reported on Overdrive last week, the Federal Motor Carrier Safety Administration is in the early stages of a potential revamp of its motor carrier safety rating system and is asking for public input on what potential changes may look like.
The agency on Tuesday opened the comment period for its information-seeking advance notice of proposed rulemaking (ANPRM), which is open here for 60 days through Oct. 30.
Specifically, FMCSA is asking for public feedback on:
The need for a rulemaking to revise the regulations prescribing the safety rating process
The available science or technical information to analyze regulatory alternatives for determining motor carrier safety fitness
The available data and costs for regulatory alternatives reasonably likely to be considered
FMCSA said the current Safety Fitness Determination system is "resource-intensive and reaches only a small percentage of carriers," adding that in 2019, FMCSA and its partners conducted 11,671 compliance reviews out of a population of more than 567,000 interstate carriers.
One key factor of potential changes to the rating system would be integrating the agency's CSA Safety Measurement System scores into a carrier's safety rating.
[Related: FMCSA offering 'kinder, gentler' approach to safety scoring? Not if automated inspections go live]
The SMS, of course, is yet another system FMCSA is in the process of potentially updating. The agency published a notice in February that, if finalized, would reorganize the current Behavior Analysis and Safety Improvement Categories (BASICs), simplify violation severity weights, alter intervention thresholds, and more.
Ultimately, FMCSA said a "successful SFD methodology may: target metrics that are most directly connected to safety outcomes; provide for accurate identification of unsafe motor carriers; and incentivize the adoption of safety-improving practices."
When commenting on any potential changes to the system, FMCSA asks that commenters respond to these questions to help guide the development of a proposed rulemaking in the future.
[Related: FMCSA making a run at revamp to carrier safety rating system]
Hazmat inspection blitz nets 700 OOS violations
An unannounced hazardous materials/dangerous goods (HM/DG) inspection blitz held during a week in June resulted in inspectors across the U.S. and Canada identifying 701 out-of-service violations related to HM/DG.
The Commercial Vehicle Safety Alliance's annual five-day unannounced HM/DG Road Blitz was held June 12-16. A total of 8,395 packages were inspected, and inspectors discovered 2,578 HM/DG violations, of which 701 were HM/DG out-of-service (OOS) violations.
Vehicles that had out-of-service violations were shut down until those violations could be corrected.
The transportation of HM/DG demands rigorous training and heightened compliance requirements, CVSA noted. For motor carriers and drivers, safely transporting HM/DG is imperative to the safety of the driver, the public and the environment. For inspectors, inspecting vehicles transporting HM/DG is a complex and detailed process that involves safely looking for any leaking materials or unsecured HM/DG cargo, and checking shipping papers, placarding, marking, labeling, packaging and loading compliance.
During the blitz in the U.S., specifically, 6,123 vehicles and 6,722 HM packages were inspected (2,658 non-bulk packages, 3,256 cargo tank packaging and 808 other bulk packaging). Inspectors identified 2,096 HM violations, of which 538 were out-of-service violations.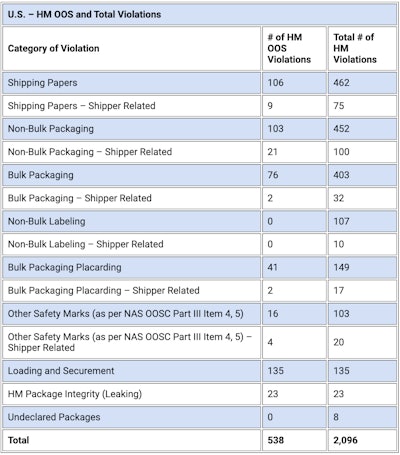 Inspectors also discovered eight undeclared packages. According to the Pipeline and Hazardous Materials Safety Administration, each year, approximately 1,500 transportation incidents occur when undeclared hazardous materials are shipped. Hazardous materials must always be properly classified, packaged, labeled, handled and stowed for transportation to protect workers, emergency responders and the general public from the risks associated with HM transportation.
[Related: Brakes: Top Roadcheck OOS violation]
Webinar planned to help fleets navigate Canadian ELD mandate
Northern Business Intelligence, a Geotab telematics reseller, is hosting a Canadian ELD mandate information webinar on Sept. 13 at 2 p.m. Atlantic.
Guest speakers include Mike Millian, President of the PMTC (Private Motor Truck Council of Canada), and Brent McInnis, Senior Product Manager with Geotab. The free webinar will review the status of the Canadian ELD mandate, provincial timelines, and exemptions, followed by an open attendee question and answer period.
Those interested can register here.
The Canadian ELD Mandate came into effect on Jan. 1, 2023, for federally regulated motor carriers. Each province has been rolling out their own enforcement dates and exemptions to allow time for education and acquiring certified devices.
Unlike the United States, where ELD providers can self-certify, ELDs in Canada are rigorously tested by an accredited third party. The approved ELD devices must meet certain standards, such as hours of service rules, automated DVIR, and be tamper-proof.
Northern BI said it's important to note self-certified ELDs in the U.S. do not necessarily meet Canadian regulations. If you drive in Canada, you need to check if your ELD is on Transport Canada's list of approved devices.
[Related: Telematics beyond ELD systems: Promise, redundancy and real expense/uptime benefits]
TA hosts Truckers Against Trafficking event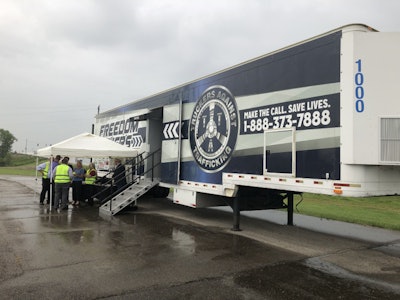 TravelCenters of America on Aug. 14 hosted the Freedom Drivers Project (FDP), a Truckers Against Trafficking program, at its TA travel center in London, Ohio.
The FDP is a first-of-its-kind mobile exhibit that educates visitors about human trafficking, which affects tens of thousands of people in the United States every year.
The project focuses on how to identify and report signs of trafficking since professional drivers are uniquely positioned to take action to stop it. The exhibit also provides a glimpse into the realities of human trafficking and information about how the transportation industry is driving change.
TravelCenters of America executives attended the event alongside local government officials, the TA London team, truck drivers and community members. Attendees joined together to engage with project staff, witness this moving multimedia experience, and learn about how to combat human trafficking.
[Related: Trucker honored for thwarting child-trafficking attempt]