Trucking news and briefs for Friday, Aug. 25, 2023:
Safety groups voice opposition to anti-speed limiter legislation, OOIDA responds
A number of highway safety groups joined forces to voice their opposition to legislation in both the U.S. House and Senate that, if passed, would block the Federal Motor Carrier Safety Administration from mandating speed limiters on heavy-duty trucks.
The Truck Safety Coalition, Advocates for Highway and Auto Safety, the Trucking Alliance group of large carriers, Road Safe America, and the National Safety Council said they are "steadfastly opposed" to the Deregulating Restrictions on Interstate Vehicles and Eighteen-Wheelers (DRIVE) Act. Some of the same groups penned a letter to Congress in May after the House version of the DRIVE Act was introduced.
The groups cited a 71% increase in truck-involved crash deaths since 2009, claiming that "speeding continues to be a leading contributing factor in the tragic rise in truck crash deaths and injuries."
They add that speed limiters "are a proven solution to curbing traffic deaths."
"About 98% of the 62,000 trucks operated by Trucking Alliance carriers already use speed limiters, because it's safe for our drivers," said Steve Williams, CEO of Maverick USA and president of The Trucking Alliance. "The science is clear. It takes an 80,000-pound tractor-trailer rig much farther to stop when going 80 miles per hour than it does at 65 or 70 miles per hour. Everybody needs to slow down, and allowing FMCSA to pursue its rulemaking is the right thing to do."
[Related: Speed limiter block in new legislation]
The groups also noted that speed-limiting technology is "already standard equipment on large trucks," contending that most fleets already use them. "A speed limiter requirement will save lives and prevent needless suffering. FMCSA must be allowed to continue this critical rulemaking."
The Owner-Operator Independent Drivers Association responded to the groups' support for a speed limiter mandate, with OOIDA President Todd Spencer noting data shows speed limiters "are not the silver bullet" for safety. "The Trucking Alliance is wrapping their opposition to the DRIVE Act in some sort of perverse argument about safety. .... The number of speeding tickets and crashes by their member carriers clearly show that speed limiters are not the silver bullet. If they were truly concerned, they would pay their drivers by the hour and reduce the pressure to speed in locations where it's clearly unsafe."
OOIDA's director of federal affairs Jay Grimes added that the American Trucking Associations and others advocating for speed limiters "believe they're better suited to determine safe speeds for all highway users, rather than state DOTs. Congress delegated this authority to the states nearly 30 years ago, and they have been moving away from the dangerous split speeds the mandate would create ever since."
The ATA has been opposed to Congressional efforts to block speed limiters, while OOIDA, the National Association of Small Trucking Companies, and CDL Drivers Unlimited groups have signaled support for the legislation to block the technology.
[Related: Advocacy groups voice opposition to anti-speed-limiter legislation]
Trimac acquires Tennessee bulk carrier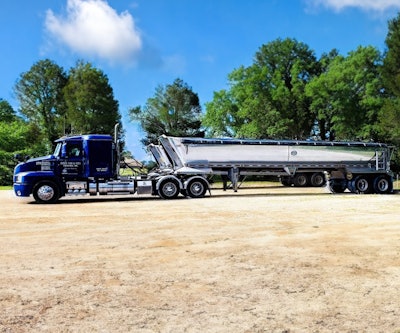 Trimac on Wednesday acquired Doyle Sims & Sons Trucking, a family-owned and operated asset-based bulk transporter based in Gleason, Tennessee. The terms of the deal, which is Trimac's fourth this year, were not disclosed.
Founded in 1949, Doyle Sims & Sons operates primarily in the South, Southeast, and Midwest with a fleet of 111 trucks, 118 trailers and 95 employees, specializing in non-hazardous and non-food grade products in pneumatic, liquid, dump, and hopper trailers. The company also offers brokerage services under DSS Logistics.
Doyle Sims's son David Sims joined the business in 1982, followed by the company's last CEO, Johnny Wagster, who presided over a doubling of the company's fleet size since joining in 1998 -- 64 trucks to nearly 120. The fleet averages 8 million miles and more than 18,000 loads per year. Much of their customer business consists of moving clay, kaolin, sand, dolomite and limestone.
Said Trimac President and CEO Matt Faure, "This fourth acquisition of 2023 symbolizes not just growth, but a continuation of our commitment to excellence."
The acquisition puts Trimac back in the state of Tennessee after it closed its Memphis trucking location, and adds new capabilities to the company's suite of services.
Doyle Sims & Sons Trucking will continue to operate under its own name, and the current Doyle Sims & Sons Trucking leadership team will stay on for six months to help with the transition.
[Related: Fruehauf trailer parent acquires East]
Two new Love's add 151 new parking spaces
Love's Travel Stops is now serving drivers in Cañon City, Colorado, and Cotulla, Texas, with new locations that opened Aug. 24.
The location in Cañon City, located off Four Mile Parkway and U.S. Highway 50, adds 54 truck parking spaces to the company's network. The location in Cotulla, located off I-35 at exit 65, 97 truck parking spaces to the area.
The Colorado location also offers an Arby's restaurant opening Aug. 28, six diesel bays, five showers and more.
The Texas store offers an Arby's restaurant opening Aug. 28, a Speedco opening Sept. 6, nine diesel bays, eight showers and more.
[Related: What makes a top-rated truck stop]