Trucking news and briefs for Tuesday, Aug. 1, 2023:
Roadcheck violations: Brakes infractions at the top by wide margin
Brake woes were once again the top out-of-service violation discovered during the Commercial Vehicle Safety Alliance's (CVSA) 72-hour International Roadcheck inspection blitz held May 16-18.
In the U.S., 4,041 trucks (25.4% of total violations found during Roadcheck) were parked with brake system violations, and another 2,236 (14%) with defective service brakes. Brake problems were two of the top three reasons cited during the campaign with tires (19%) ringing in spot No. 2.
Cargo securement (12.4%) and lights (11.4%) rounded out the top five.
The focus of this year's campaign was anti-lock braking systems (ABS) and cargo securement. There were 2,975 cargo securement violations and 4,127 ABS violations -- four were discovered on motorcoaches, 1,426 on power units and 2,697 on trailers.
Nearly 60,000 trucks and buses were inspected in Canada, Mexico and the U.S. as part of the enforcement blitz, and 81% of the vehicles and 94.5% of the drivers had no out-of-service violations.
[Related: Brake Safety Week: Brake linings and pads under scrutiny]
Of the 19% of the vehicles inspected and with at least one out-of-service violation, 11,270 commercial motor vehicles were removed from roadways until the violations were corrected. There were a total 17,479 vehicle out-of-service violations issued over the three-day event.
Inspectors restricted 5.5% (3,256) of drivers inspected who were found to have at least one OOS driver violation. There were 5,280 driver out-of-service violations in total.
The top driver violation by a wide margin was related to the Hours of Service (39.4%) followed by False Logs (27.4%), the catch-all Other category (9.5%), Canceled/Revoked License (8.2%) and No Medical Card (4.8%). A total of 949 seatbelt violations were issued during this year's International Roadcheck, too, accounting for just more than 1% of drivers.
Inspectors also checked commercial motor vehicles carrying hazardous materials/dangerous goods (HM/DG) to ensure they were being transported safely and compliant with federal regulations. A total of 2,853 HM/DG inspections were performed, and inspectors discovered 236 HM/DG-related out-of-service violations.
Further increased brakes scrutiny is on its way with the Brake Safety Week enforcement initiative later this month, set for August 20-26. Access brakes-related content in Overdrive via the following link to our page featuring the most recent content:
[Related: Nearly 800 trucks sidelined during unannounced inspection blitz]
Another effort to derail a speed-limiter mandate intro'd in Congress
A third Congressional effort to block the Federal Motor Carrier Safety Administration from mandating speed limiters on heavy-duty trucks was introduced in the Senate July 27.
Sen. Steve Daines (R-Montana) introduced the "Deregulating Restrictions on Interstate Vehicles and Eighteen-Wheelers (DRIVE) Act," which is identical to the House bill introduced in May by Rep. Josh Brecheen (R-Oklahoma).
If passed and signed into law, the bills would block FMCSA from requiring "vehicles with a gross vehicle weight of more than 26,000 pounds operating in interstate commerce to be equipped with a speed limiting device set to a maximum speed."
"Montana truckers play an essential role in the Treasure State's economy and ensuring they stay safe on the job is one of my top priorities," Daines said. "Overreaching, out-of-touch D.C. mandates oftentimes make truckers' jobs harder and can even put their lives at risk -- I'll keep fighting for Montana truckers and against big government."
[Related: Another push to block speed limiters emerges in Congress]
Like the House version of the bill, Daines' bill has not picked up any bipartisan support, but it is cosponsored by five Republican Senators.
Another effort to block speed limiters is included in the 2024 transportation budget bill that passed the House Appropriations Committee in July. It awaits a vote by the full House, setting up a potential battle in the more contentious Senate.
The Owner-Operator Independent Drivers Association, National Association of Small Trucking Companies, and CDL Drivers Unlimited groups have signaled support for the legislation to block speed limiters, while the American Trucking Associations has generally been opposed to efforts to block the technology.
[Related: Advocacy groups voice opposition to anti-speed-limiter legislation]
Driver named Highway Angel for helping crash victims, controlling accident scene
Prime Inc. driver Jonathon Adams, out of Grand Rapids, Minnesota, has been named a Highway Angel by the Truckload Carriers Association for rescuing an injured crash victim trapped in a wrecked vehicle and communicating important details to authorities.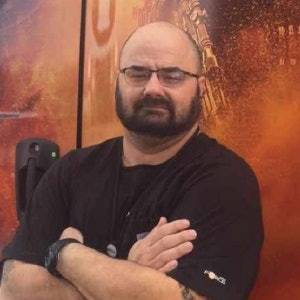 On June 24 in Simpsonville, Kentucky, around 4 p.m., Adams was on I-64 when he saw an accident take place. A passenger vehicle swerved into another lane, causing another passenger vehicle to run off the road and flip multiple times, end over end.
"Me being prior law enforcement-trained and I used to be a CPR instructor -- I'm definitely a first responder. I definitely needed to pull over and help," Adams said.
Adams, who also is a U.S. Air Force veteran, called 911 and safely pulled over to assist. When he got to the vehicle, he saw three people were out of the car but was told there was a fourth passenger still inside the vehicle. Adams pried open the door and found the passenger, who appeared to be severely injured.
Adams helped pull the passenger out of the vehicle, carried him out of the car, out of the ditch in which the vehicle crashed, and onto the side of the road. Adams put him next to the other passengers safely off the road. At that point, he turned the car off and disconnected the battery to prevent it from catching on fire.
"Everybody was just head concussions, seat belt injuries and just broken bones," Adams said, noting he was able to inform the first responders about injury details to help them know what vehicles to bring to the scene.
Another bystander who stopped to help was a nurse, so Adams asked her to keep an eye on a crash victim with head trauma and to not let her fall asleep.
Once EMS arrived, Adams advised the crew of the situation and who needed immediate help. He spoke with police and was able to offer his dashcam footage to help identify the vehicle that had swerved into the other lane. Adams stayed on-site for an hour helping the police.
"I really do well in a time of crisis," Adams said. "If I get hurt, I'll figure it out later."