Trucking news and briefs for Friday, July 14, 2023:
Anti-speed-limiter text lands in appropriations bill
A House Appropriations Committee subcommittee on Wednesday, July 12, approved an appropriations bill that includes a provision to block the Federal Motor Carrier Safety Administration from mandating speed limiters on heavy-duty trucks.
The House Transportation, Housing and Urban Development, and Related Agencies (THUD) Subcommittee approved an appropriations bill for fiscal year 2024 by voice vote that, if eventually passed, would set funding levels for the Department of Transportation for FY 2024, among others.
The bill includes a provision that states that "none of the funds appropriated or otherwise made available" by the bill "may be used to promulgate any rule or regulation to require vehicles with a gross vehicle weight of more than 26,000 pounds operating in interstate commerce to be equipped with a speed limiting device set to a maximum speed."
With the bill being advanced by the subcommittee, it will now move to the full Appropriations Committee. A markup of the bill is scheduled for Tuesday, July 18. If it passes the committee, it will then move to the full House floor. It would still need to be passed by the Senate and signed by President Joe Biden to be enacted.
FMCSA in 2022 published an advance notice of proposed rulemaking exploring the possibility of mandating speed limiters on trucks. A notice of proposed rulemaking is expected this year to officially propose the mandate, but it has yet to be published.
The appropriations bill isn't the first attempt by Congress to block a speed limiter mandate. A bill introduced in the House in May by Rep. Josh Brecheen (R-Oklahoma) -- the Deregulating Restrictions on Interstate Vehicles and Eighteen-Wheelers (DRIVE) Act – that would prohibit FMCSA from issuing a rule or regulation to require speed limiters on trucks. The legislation is up to 21 co-sponsors -- all Republicans.
[Related: 'Dumbest idea I've ever heard': Owner-operators say no to speed-limiter mandate]
Bosch begins volume production of hydrogen fuel cell power module
Global tech supplier Bosch announced this week it is beginning volume production of its hydrogen fuel cell power module.
In the U.S., Nikola Corporation will serve as the pilot customer with its Class 8 hydrogen fuel cell electric truck, which is scheduled to enter the market in the third quarter of this year.
"Here in Stuttgart-Feuerbach, in the plant whose history goes back further than any other Bosch plant, the hydrogen future is about to happen," said Dr. Stefan Hartung, the chairman of the board of management of Robert Bosch GmbH, at the Bosch Tech Day 2023. "Bosch knows its way around hydrogen and Bosch is growing with hydrogen."
By 2030, Bosch plans to generate sales of roughly $5.3 billion with hydrogen technology.
"Bosch is one of the very few companies that are capable of mass producing technology as complex as fuel-cell stacks. We don't just have the required systems expertise, but also the capability of quickly scaling up new developments to mass production," said Markus Heyn, member of the Bosch board of management and chairman of Bosch Mobility.
The company is starting production of the fuel-cell power module in Feuerbach, Germany, as well as in Chongqing, China.
Bosch is also planning to manufacture stacks for mobile applications in its U.S. plant in Anderson, South Carolina. Worldwide, the company expects that, by 2030, one in five new trucks weighing six tons or more will feature a fuel-cell powertrain.
[Related: Peterbilt, Kenworth fuel cell trucks entering production with much more range than electric]
Driver recognized for helping van passengers after crash
Truck driver Michael Rohn, from Griggsville, Illinois, has been named a Highway Angel by the Truckload Carriers Association for stopping to help the passengers of a van that crashed in front of him on the road. He drives for Angie's Transportation out of St. Louis.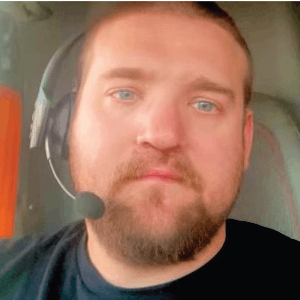 On June 3 around 9:30 a.m., Rohn was traveling on Interstate 40 in Bowie, Arizona, when he witnessed a van in front of him blow a tire and start rolling.
"I stopped and when I got there, the driver was a little dazed and confused," Rohn said. "We got her out, but another passenger was trapped, and they had a child that we pulled through the window."
Rohn tended to the injured passenger trapped inside the vehicle, keeping him calm until first responders arrived. He then helped the first responders remove the trapped passenger from the van. He said there were also five dogs in the vehicle, each of which got out of the vehicle safely.
"If it was me, I'd want somebody to help me," Rohn said, as to why he went to such lengths to assist the crash victims.