Trucking news and briefs for Wednesday, July 12, 2023:
OOIDA comes out against PRO Act
The Owner-Operator Independent Drivers Association this week penned a letter to members of the U.S. Senate voicing the group's concern over the Richard L. Trumka Protecting the Right to Organize (PRO) Act of 2023.
The PRO Act, as previously reported, would codify the ABC independent contractor test into the National Labor Relations Act for determining worker status for the purposes of seeking to unionize. The legislation was approved by the U.S. Senate Committee on Health, Education, Labor and Pensions (HELP) on June 21, moving it to the full Senate for a possible eventual vote.
In the letter, OOIDA President Todd Spencer said the PRO Act "would create uncertainty for drivers and motor carriers" using the leased owner-operator model.
Spencer added that OOIDA understands the intent of the legislation "is to specifically address classification for the purposes of labor organizing," but in practice, "employers would likely use this test to classify their workers under all laws."
As a solution for improving working conditions and compensation for truck drivers, Spencer said Congress "could start by repealing the overtime exemption for employee truck drivers. Under the [Fair Labor Standards Act], truckers are specifically exempt from guaranteed overtime pay. This provision makes it the law that a driver's time is less valuable than other workers, and it should be eliminated."
[Related: National contractor ABC test resurfaces]
FMCSA cracking down on household goods moving fraud
As peak moving season ramps up, the Federal Motor Carrier Safety Administration is continuing its multi-prong approach to identifying and taking action against movers and brokers aiming to defraud consumers.
Earlier this year, FMCSA launched Operation: Protect Your Move in response to a significant uptick in complaints of movers holding household goods hostage and extorting exorbitant additional charges from consumers.
As part of recent a three-week enforcement sweep to curtail household goods moving scams, dozens of highly trained agency personnel conducted more than 100 investigations across 16 states, resulting in more than 60 enforcement actions that may lead to the revocation of operating authority for some movers and brokers.  
"FMCSA takes very seriously its responsibility to help protect consumers when moving their household goods across state lines," said FMCSA Administrator Robin Hutcheson. "We've made great progress in identifying scam movers and brokers, but we can't do this alone. We must work with partners across federal and state government to make the greatest impact." 
The agency also established the Household Goods State Enforcement Partnership Program to maximize the impact of collective efforts. Through this program, participating state agencies have access to FMCSA enforcement databases, free training on federal regulations and laws, and will participate with FMCSA on joint investigations to support increased enforcement actions. Eleven state agencies have signed on, including the Attorneys General offices for Arizona, Arkansas, Florida, and Texas. Four additional state partners are expected by the end of summer.  
Additionally, FMCSA formed an internal technical advisory group to help guide future efforts. The agency is improving training programs for investigators, hiring additional personnel, and expanding its consumer education and outreach footprint, including a digital toolkit with updated videos, checklists, and other useful information to help individuals prepare for an interstate move and spot red flags before it's too late.  
The FMCSA National Consumer Complaint Database remains available, and consumers may file complaints or research the history of movers and brokers registered with FMCSA.
[Related: FMCSA cracking down on household goods moving scams]
Driver recognized for stopping to extinguish car fire at roadside
Hirschbach Motor Lines truck driver Brandon Kelly, from Odessa, Florida, has been named a Highway Angel by the Truckload Carriers Association for stopping to extinguish a roadside car fire.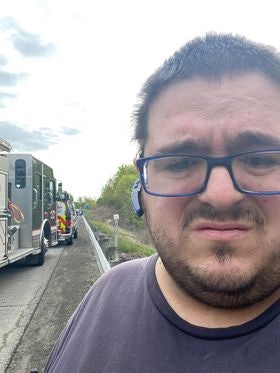 On May 8 around 11 a.m., Kelly was driving on I-64 in Huntington, West Virginia. A man standing on the side of the road by his Jeep Wrangler flagged Kelly down.
"I saw smoke coming from the guy's vehicle," he said.
Kelly quickly and safely pulled over, grabbed his fire extinguisher out of his truck and called 911.
"He (the vehicle owner) was starting to open the hood of the vehicle to see what it was," Kelly said. "I told him not to do that because it might feed oxygen to whatever was smoking."
Kelly extinguished the fire while on the phone with the 911 dispatcher. A former volunteer firefighter, he had basic training that helped with the situation. When the fire department arrived 15 minutes later, officials told Kelly he was in the right place at the right time. Apparently, there was gas leaking in the vehicle, as well as burned wires. A truck driver for the past eight years, Kelly did not hesitate to stop to help the driver.
"I was raised, if somebody needs help, it doesn't matter what kind of help it is, just stop to see if you can offer some assistance," he said.