Trucking news and briefs for Friday, July 28, 2023:
Clean Freight Coalition meets with government officials on emissions regs
Leaders from the Clean Freight Coalition (CFC) on Wednesday met with officials from the Joint Office of Energy and Transportation to discuss the challenges and opportunities of transitioning the nation's commercial truck fleet to low- and zero-emission vehicles (ZEVs).
The first meeting between CFC and the Joint Office occurred as emerging state and federal regulations aim to push the transportation sector toward decarbonization, CFC said.
The Joint Office was created through the 2021 infrastructure legislation to facilitate collaboration between the U.S. Department of Energy and the U.S. Department of Transportation on deploying a network of electric vehicle chargers and other low-carbon fueling infrastructure. An alliance of freight transportation stakeholders committed to reducing emissions substantially, the CFC launched in March to educate policymakers on these issues.
During this week's meeting, CFC urged the Joint Office to consider the heavy-duty sector when granting federal funds. CFC cited a massive infrastructure gap as one of the largest hurdles to a transition away from carbon-based fuels -- one that policymakers need to focus on now, CFC noted.
"One of the fatal flaws in California's electric-truck mandates is that the infrastructure buildout is lightyears behind the hyper-aggressive timelines set forth in regulation," said CFC Executive Director Jim Mullen. "By trying to force the trucking industry to electrify without the charging infrastructure and power capacity that will be required, the state is setting trucking and the supply chain up for failure. That's why in our meeting with the Joint Office today we stressed why EPA should not propose ZEV-dependent rules prior to ensuring the necessary resources are actually in place."
The CFC also met with lawmakers on Capitol Hill to discuss concerns over EPA's Phase 3 Greenhouse Gas rulemaking and to urge repeal of the federal excise tax, which would provide dramatic and immediate emissions reductions by helping turnover the nations aging truck fleet with today's cleaner and safer models.
[Related: Electric trucks garner little interest from owner-operators, despite growth projections]
Waymo puts autonomous truck development on backburner
Autonomous driving tech company Waymo this week said it plans to "push back the timeline on our commercial and operational efforts on trucking, as well as most of our technical development on that business unit," and focus on its autonomous ride-hailing business.
Waymo, Google parent Alphabet's autonomous driving division, had forged strong partnerships in trucking, including the public testing an autonomous Class 8 trucking platform across Phoenix and Dallas with Daimler Truck North America (DTNA) just 11 months ago. The two companies in October 2020 announced a global strategic partnership.
Waymo also found partners in Uber Freight, J.B. Hunt and UPS, among others, and partnered with Ryder in 2021 on a fleet management services deal, with Ryder providing fleet maintenance, inspections and roadside assistance across Waymo's hubs and testing sites. Waymo said it would continue collaboration with DTNA to advance technical development of an autonomous truck platform.
"Both our companies share the common goal of improving road safety and efficiency for fleet customers, so we'll follow through with the platform investments we've made to create a redundant chassis to facilitate autonomous trucking," the company said. "We look forward to continuing to bring together our autonomous tech with DTNA's autonomous-ready Freightliner Cascadia platform and exploring the potential of future platforms.
Waymo's ongoing investment in advancing the capabilities of its hardware and software suite known as the Waymo Driver, especially on freeway, will directly translate to trucking and benefit its development efforts, the company added.
Another driverless truck tech company, TuSimple, announced in June it intends to exit the U.S. market and explore putting itself up for sale.
[Related: Overdrive readers signal strong favor for California bill's approach to requiring drivers in autonomous truck cabs]
Sheetz launches driver appreciation sweepstakes
Sheetz, a Mid-Atlantic restaurant and convenience chain, has partnered with Trucker Path to launch its annual National Truck Driver Appreciation Sweepstakes.
Through the sweepstakes, truck drivers have the opportunity to win weekly prizes that include $500 in Sheetz fuel cards and additional rewards from Monster, Pepsi and Coca-Cola. The grand prize winner will receive $3,000 in Sheetz fuel cards and other rewards. A drawing will be held every Wednesday between now and Aug. 23 to determine the weekly prize winner. The grand prize drawing will be held on Aug. 28. The last day to enter the sweepstakes is Aug. 27.
Truck drivers can enter to win by going to www.ntda.sweeppea.com. Entrants must possess a CDL to participate.
Driver recognized for helping lost boy in cemetery
The Truckload Carriers Association (TCA) has named truck driver Jesse Harlander, from Holdingford, Minnesota, a Highway Angel for contacting police and helping a lost 12-year-old boy at night in a cemetery. Harlander drives for Brenny Specialized, out of St. Joseph, Minnesota.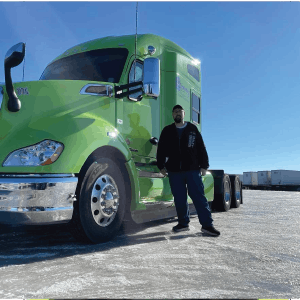 On April 11, Harlander arrived at a large cemetery in Indianapolis, where he would be delivering an oversized load of granite first thing the next morning. In order to be ready for the early start, he parked his truck in the cemetery and settled in for the evening, reading a book.
When it was dark, around 8:30 p.m., he heard a knock at his door, and discovered a 12-year-old boy lost and scared, standing outside his truck. He rolled down his window and asked if he needed help.
"He said, 'yeah -- help me -- get me out of here,'" the 25-year trucker said.
Harlander called 911 and alerted police to the child's situation. He later found out from police that the boy had been heading to a playground, decided to try to take a shortcut through the cemetery and got lost.
While the boy and Harlander waited for police to arrive, he allowed the boy to look inside the cab of his truck. The boy told him he wanted to play in the NBA someday. Police eventually arrived and the boy was returned to his home safely.
"It was pretty bizarre," Harlander said. "I'm glad he got out of there."