Trucking news and briefs for Friday, May 26, 2023:
Nearly 800 trucks sidelined during unannounced Brake Safety Day
Nearly 800 trucks and/or buses were placed out of service during an unannounced inspection initiative targeting brakes in April.
On April 19, 6,829 commercial vehicles were inspected throughout Canada, Mexico and the U.S. as part of the Commercial Vehicle Safety Alliance's Brake Safety Day. Inspectors found brake-related critical vehicle inspection items on 11.3% of the vehicles inspected, indicating those vehicles were unfit and unsafe for roadways. As a result, inspectors restricted those 773 commercial motor vehicles from travel until the violations were corrected.
During the one-day unannounced inspection and enforcement campaign, certified inspectors conducted their usual vehicle and driver inspections. They reported brake-related data to CVSA for a one-day snapshot of the state of brake systems on trucks.
The top three brake-related out-of-service conditions were:
20% Brakes Violations -- 479. Otherwise known as the 20% rule, this OOS condition occurs when a vehicle or combination of vehicles is shown to have 20% or more of its service brakes with an out-of-service condition resulting in a defective brake -- such as a brake out of adjustment, an audible air leak at the chamber, defective linings/pads, a missing brake where brakes are required, etc.
Other Brake Violations -- 368. Examples of other out-of-service brake violations are worn brake lines, broken brake drums, inoperative tractor protection system, inoperative low air warning device, air leaks, hydraulic fluid leaks, etc.
Steering Brake Violations -- 81. Examples of automatic standalone out-of-service steering axle brake violations are inoperative brakes, mismatched brake chambers, mismatched slack adjuster length, defective linings, etc.
During this year's Brake Safety Day, CVSA focused on capturing data on brake lining/pad violations, which can result in violations and affect a motor carrier's safety rating.
Of the 6,829 commercial motor vehicles inspected, 108 tractor and 87 trailer lining/pad violations were identified, for a total of 195 combined lining/pad violations.
In addition, eight of the CVSA member jurisdictions with performance-based brake testers (PBBTs) used those machines to assess the braking performance. Those participating jurisdictions conducted 92 inspections with PBBTs, resulting in four failures (4.35%), which meant those four vehicles were placed out of service for overall vehicle braking efficiency.
[Related: Caught at Roadcheck: 2023 inspection fails]
ACT: Rates still in shippers' favor, but rebalancing underway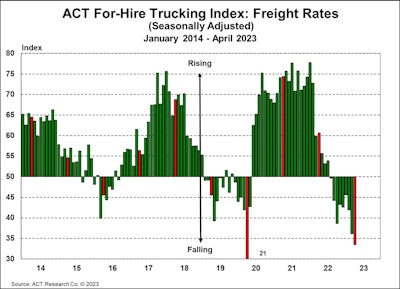 Freight volumes, rates and capacity continued their decline in April, leading to a further weakening of freight markets, according to the latest release of ACT's For-Hire Trucking Index.
The Trucking Volume Index weakened further in April, at 37.6 compared to 44.6 in March. Destocking contributed to the softness, ACT said, although the 24% year-over-year decline in container imports in the first quarter likely represents the worst of the destocking.
"A slowing in destocking would be a positive for volumes," said Tim Denoyer, vice president and senior analyst at ACT Research. "Inflation, while showing tentative improvement, continues to impact consumer spending power, with retail sales in real terms down 3.6% year over year in April. The slow-start produce season may also be a headwind."
The Pricing Index's slide continued, as well, falling 2.7 points to 33.4 in April from 36.1 in March. This is the second lowest reading in the index's history, with only April 2020 being lower.
"We believe the cure for low prices is low prices, and since October 2022 the DOT has revoked a net 11,000 operating authorities," Denoyer added. "While the pricing pendulum remains with shippers for now, the next capacity rebalancing has begun. With capacity slowing and set to decline later this year, rate trends should begin to recover as soon as traction on freight volumes is established."
The Capacity Index ticked down by 0.8 points month over month to 51.8 in April, still growing, but at a slower rate than in 2022. Improvements in equipment production and driver availability, due to improvements in the supply chain and operators seeking safe harbor in larger fleets, helped grow capacity for the past 18 months, ACT said.
The Supply-Demand Balance loosened further in April, to 35.8 from 42.0 in March, largely due to the month-over-month decline in volumes, but the slight downtick in capacity also added to the looser reading.
Denoyer said April was the 14th consecutive month of ACT's Supply-Demand Balance Index being below 50, denoting deteriorating conditions with more capacity than freight volume.
"For context, in the 2015-2016 downcycle, the Supply-Demand Balance was loose for 17 of 19 months," Denoyer noted. "While conditions remain loose, the seeds have been sown for a rebalancing."
[Related: How to prep for the downturn as an owner -- it's always right around the corner]
Alabama-based driver named Highway Angel for helping rescue injured trucker
Bradley Edwards, a truck driver out of Athens, Alabama, has been named a Highway Angel by the Truckload Carriers Association for helping rescue a badly injured trucker when his tanker truck crashed. Edwards drives for Carter Express out of Anderson, Indiana.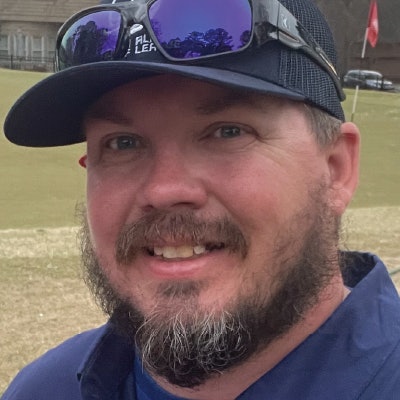 On May 3 around 10 a.m., Edwards was driving northbound on I-65 in Cullman, Alabama, when he witnessed a tanker truck wreck in front of him.
"I saw dirt go flying up, and I knew it was a tanker," Edwards said. "First thing I thought was, 'Oh, this thing is gonna explode.'"
He pulled over to assist and ran to the truck, which was leaking fuel, increasing his concerns. Another passerby also stopped and handed Edwards a crowbar, which he used to break out the back glass of the tractor and extricate the crash victim.
"We carried him up to the side of the road and an ambulance was there within minutes," Edwards said. "He was messed up bad -- his arm was all messed up."
The emergency rescue vehicles took the injured trucker away. At this point, Edwards, a trucker for the past eight years, was also covered in blood, with glass in his hands. But he said he never hesitated to step up to help the injured trucker.
"When you see something like that and you can help, you should be able to stop," Edwards, an Air Force veteran, said.