Over the Christmas weekend, l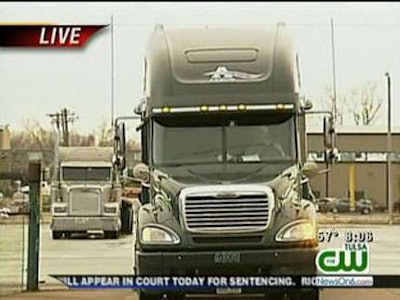 egions of truck drivers reached out to help former employees of recently closed Arrow Trucking get home. After the company announced its closing Dec. 22 and reportedly instructed drivers to turn their trucks in at dealerships around the country, offering $200 or a bus ticket from there, the mammoth effort of getting drivers home wouldn't have been possible without the outpouring of help from fellow drivers feeling the giving spirit of the holidays. A Facebook fan page, now with nearly 6,000 members, was set up reportedly by the Owner-Operator Independent Drivers Association (in addition to a hotline: 800-444-5791 x1) to coordinate efforts to schedule rides for drivers and share information, and the stories hitting the press even now are too numerous to chronicle. The outpouring of support brought trucking blogger Jason Cox (no doubt among others) to tears, he says, which is to say nothing about the hundreds of Arrow employees out there. Here's hoping most made it home in time for the holidays.
In recent developments, Workforce Oklahoma, for one, plans a "Rapid Response Event" for Arrow employees looking for job prospects at the Central Technology Center in Sapulpa, Okla., that begins tomorrow, Tuesday, Dec. 29, at 9 a.m.