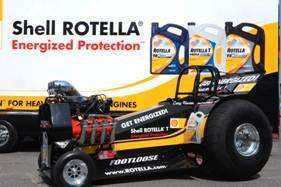 Mobil Delvac isn't the only top diesel oil name you'll see on the tractor-pull circuit this season. Since I blogged about Delvac's involvement as sponsor of the big Tomah, Wis., tractor pull in June, I've taken note of another on-highway oil mainstay's sponsorship of the high-profile Koester Racing team. Pictured are the Shell Rotella-sponsored pullers of father-son team Larry (black) and Adam (white/black) Koester. The Koesters came away from Tomah with four top-ten finishes.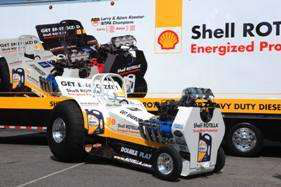 They're pullers with championship histories in the mini-modified National Tractor Pullers Association (NTPA) division. Their tractors, as well as the team's trailer and mule (motorized utility vehicle), have been revamped with new Shell Rotella paint schemes for the 2010 season. 
The 2010 season marks Larry Koester's 24th year of tractor pulling. Larry was introduced to the sport by his brother and brother-in-law, and started competing as a hobby following a farm tractor accident in 1986. After developing a mechanism for the brakes and throttle, Larry was well on his way to finding his lifelong passion driving his "Footloose" machine.
In 2001, Larry captured his first Grand National Points Championship. He later captured championships in 2006 and 2008. Among other top finishes were runner-up placements in 1992, 2002, 2005, and 2007.He was also named Mini Modified Puller of the Year in 1992, 2001, 2003, 2006 and 2008.
Adam is entering his sixth year of grand national tractor pulling. The 24-year-old grew up in the sport and was a natural puller, clinching Rookie of the Year honors in 2005. In 2006, Adam placed second in points to his father and beat him in a close finish in 2007 to win the championship. Dad was not to be out-pulled in 2008, as he reclaimed the championship. The winning duo is looking to again deliver winning results during the 2010 season. Schedule for the pair follows, with their next NTPA event coming later this week at the 2010 Arcola Motorsports Spectacular. You can link up with the Koesters on Facebook here.
July 9-10 — Arcola, Ind.
July 17-18 — New Hampton, Iowa
July 23-24 — Chapel Hill, Tenn.
July 30-31 — Fort Recovery, Ohio
August 13-14 — Saluda, S.C.
August 17 — Armada, Mich.
August 20-22 — Bowling Green, Ohio
August 24 — Greenville, Ohio
September 3 — Wauseon , Ohio
September 4 — Findlay, Ohio
September 9 — Wauseon, Ohio
September 18 — Urbana, Ohio
October 15-17 — Raleigh, N.C.