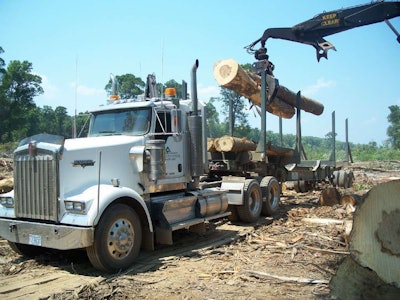 Working his operation from Jacksonville, N.C., Bobby Goodson, owner of Goodson's All-Terrain Logging, is one of several pioneers of the method of "shovel logging" he's become somewhat famous for today, thanks to the Discovery Channel's "Swamp Loggers" series. The reality show, depicting Goodson and crew's work in the low-country swamps, helped propel the Discovery Channel to near the top prime time cable network ratings earlier this year — averaging close to 2 million viewers per episode. For listings, click here, and for video from the show, which premiered in February, click here.
"When I first got a call from the producer of the show, who had heard about us from an American Logging Council member, I thought someone was playing a joke on us," Goodson told the folks at Kenworth. " It took me a while to figure out they were on the level and they wanted to do a documentary show. We agreed, really not thinking it would go anywhere beyond a few episodes."

It takes around 135 hours of filming to create one 50-minute episode, Goodson contends, and he and the crew have gotten used to having cameras on site during the filming season. "It does slow things down on occasion, but for the most part, we work like we normally do and they capture what happens."
Swamp logging began around 1995, Goodson says, in Georgia by an ambitious logging crew. "And before that, loggers took wood out of swamps with 'steam donkeys.' They would winch the logs to rivers and float them downstream. But, with the Clean Water Act, and logging restrictions within 50 feet of rivers, that all went to the wayside."

That left the new technical type of shovel logging – which Goodson adopted in the late '90s. After negotiating a royalty with a landowner for logging the land, it's up to Goodson's crew to get the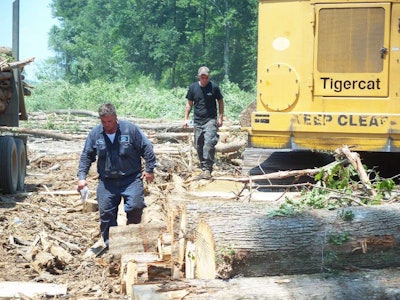 wood cut and to the mill as soon as possible. Using Google Earth to map out a swath of land to log, Goodson then puts his $425,000 feller buncher, piloted by Simetrio Ruiz, to work. The machine's grapplers hold the tree while its 61-inch-diameter rotating blade glides through the lumber like butter. Fallen trees are then placed by a log loader, "or shovel, as we call it," said Goodson, in front of the feller buncher.

"The downed trees — Ash, Cyprus and Tupelo — limbs and all, then make a 50-foot wide road to go further into the swamp," Goodson explained. "Sometimes we'll have to put two or three trees down on top of each other in real boggy areas. As the process moves forward, we'll create a log road of up to 1 mile, but generally we'll go about a half-mile in. Simetrio works down and back twice before the first wood can be loaded and hauled to the mill."

The logs go on the company's six trucks, five of which are Kenworth W900s (two owned by Goodson and three by his son, Justin), and they load to the max, a gross combination weight (GCW) of 84,000 pounds.

"To make money we need to average 20 loads a day to the mill," says Goodson. "So the reliability of our equipment and Kenworths are critical. It's really why we bought them, that along with keeping our drivers happy in a premium rig. I've been around log trucks enough to know what stands up in tough conditions and what log trucks start to fall apart. We don't run chain saws out here. Everything is mechanized and dependent upon each other. If one piece of our heavy equipment goes down, or one of our trucks, then it hampers everything.
"We buy equipment to work it, and work it we do."