A story in the Akron Beacon-Journal from last week detailed the inventing prowess of dump-truck driver for Barbicas Construction and former long-hauler Charlene Cook, of Akron, Ohio. She unveiled her gizmo, the Last Drop Bottle Buddy, at the Invention and New Product Exposition, or INPEX, outside Pittsburgh June 16-18. The Bottle Buddy is essentially a sturdy stand and a cup on which you can place all manner of bottles to drain the last of their contents — while you go about your logs, dinner or whatever else.
Cook told Beacon-Journal writer Betty Lin-Fisher we can thank her hauling profession in large part for the device, which she and a inventor friend took from idea to prototype in just four months. Trucking, she said, afforded "lots of time to think about life's big and little challenges," and though getting all you can out of that shampoo bottle or quart of oil may not be a cure for cancer, it could be a godsend for the penny-conscious among us. Basically, she said, "'It aids in saving money," quoting reports that "show people throw away 2 percent to 17 percent of liquids leftover in bottles," Lin-Fisher wrote.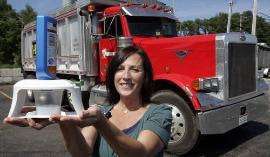 "There's no more balancing acts," Cook said, "no shaking the bottle or cutting the bottle open."
For a video demonstration of the Last Drop Bottle Buddy and more pictures by the Beacon-Journal's Mike Cardew, as well as Lin-Fisher's story, click on the thumbnail image of Cook here.