Mack Celebrates 50 years of Hagerstown powertrain assembly
In a ceremony Wednesday at the plant in Hagerstown, Md., where its powertrain components have been assembled since 1961, Mack Trucks paid tribute to the past, celebrated the present and cast a positive eye to the future, just as we've been doing (well, mostly my colleague Lucinda Coulter) here at Overdrive as we celebrate our 50th anniversary over at http://www.overdriveretro.com/.
In 1959, looking for a modern alternative to its existing engine, transmission and carrier facility in Plainfield, N.J., Mack decided to invest $45 million in a new one million square foot plant on 280 acres in Hagerstown. With construction complete (pictured in the 1970s), the first Mack engine rolled off the assembly line in 1961. As the company's products have become more advanced over the years, so have the capabilities of the Hagerstown plant, thanks to continued investment and a commitment to excellence. Today, the facility is approximately 1.5 million square feet – the area of more than 30 football fields – with a high degree of robotics (current assembly process illustrated in part in the photo below), automation and assembly controls helping ensure product quality. More than $300 million invested since 2001 alone has brought significant upgrades, like an Engine Development Lab used to provide customers with increasingly fuel-efficient engines.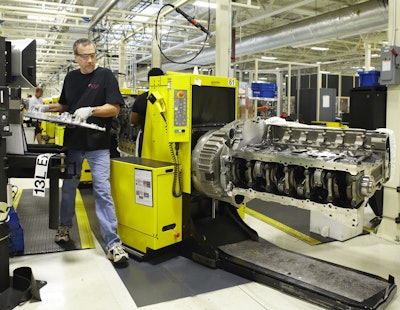 One thing that hasn't changed is the dedication of the employees working in the plant, or the value placed on their input. Employees regularly meet in small groups on the plant floor, working together on continuous improvement. The process is called kaizen, but what really matters are the results – competitive products built in the United States.
"For half a century, the heart of every Mack truck has originated in Hagerstown," said Kevin Flaherty, Mack senior vice president, U.S. and Canada. "We've always been an integrated manufacturer, with engines, transmissions and axles specifically designed to work together. Delivering on the Mack brand promise of reliability, durability and application excellence starts with the powertrain – and our hats are off to everyone in Hagerstown as they celebrate this milestone." For more on Mack's commitment to employees, check out the lead item in the Roadside Attractions section of last month's Overdrive, about Mack CEO Denny Slagle's undercover work among assembly employees on Undercover Boss, which I wrote about on Channel 19 here.
Turning 50, looking sharp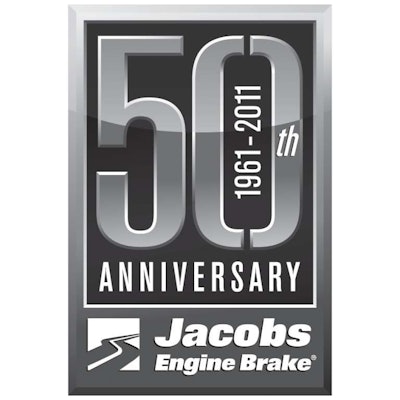 Not only is the engine brake an integral part of most heavy-duty on-highway engines today, the nickname for Jacobs Vehicle Systems' brakes has become so synonymous with the compression-brake technology that city noise ordinances even single it out on signage posted to keep "Jake Brake" usage to a minimum. (Though as Overdrive's Lucinda Coulter pointed out in her August 2009 "Price of Noise" story on the subject, any significant noise is typically a faulty muffler.) This year, JVS, too, joins Overdrive in celebrating a half-century of existence, and the makers have revamped their website to coincide with the celebration and showcase how the company has evolved over the years into a trusted partner to companies and end-users all over the world. That's you. If you missed Overdrive Equipment Editor John Baxter's piece on the evolution of the Jake Brake, visit our own 50th-anniversary site, overdriveretro.com, go check it out.