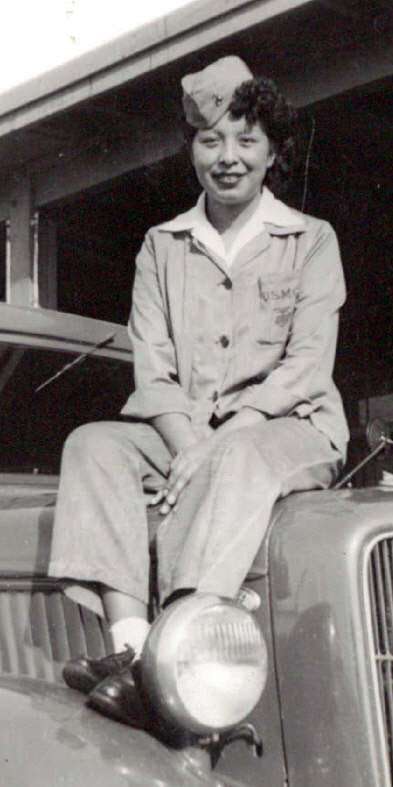 Minnie Spotted Wolf never encountered combat in World War II, yet she blazed trails as, most likely, the first Native American woman to serve in the Marines – as a truck driver, nonetheless.
A native of Heart Butte, Mont., she sits proudly atop a 1940s-era supply truck in a photo, courtesy of her daughter Gerardetta England, for a story in the Great Falls Tribune that commemorated her service. She joined the Marine Corps Women's Reserve in September 1943 and served four years. Tribune reporter Peter Johnson wrote that she was based in Hawaii and California "working as a heavy equipment driver, a job usually done by men."
The trucks she drove most likely included International M-5H-6s and Chevrolet WAs, according to Kater Miller, assistant curator at the Marine Corps National Museum.
After military service, she graduated college with a bachelor's degree in education, married, had four children and taught elementary school in Montana for 29 years before her death in 1988 at age 65.
The petite, 110-pound reservist, like many of the nation's truckers, grew up knowing about hard work. Spotted Wolf helped her parents raise cattle, sheep and horses on their small ranch 15 miles northeast of Heart Butte.
She was also proud of her country and her heritage. "She wasn't in the military just for herself but for the Indian people," England told the Tribune. "She wanted others to know who she was and where she came from."
Spotted Wolf, who took her husband's surname of England, was said to have kept a horse near the small country schools where she taught surely, in part, to treasure that heritage.
As are many truckers, she, too, was a proud patriot, often wearing her Browning American Legion Post 127 uniform and carrying a flag for annual Indian Days celebrations, according to the Tribune. We remember her life's example among the many seen and unseen, known and unknown soldiers this Memorial Day who gave their labor – and for many, their lives – to our nation. –Lucinda Coulter
Photo courtesy of Gerardetta England