In a conference call last week put together by the All Drivers Together group, a collaboration of owner-operators and drivers opening up a free conference line to drivers and others in the trucking industry around the nation to network and share information toward industry betterment, 4 State Trucks' Bryan Martin noted the shift in efforts around his home city of Joplin, Mo., to rebuilding in a big way last week. "This week, it's cleanup crews – storm trucks with the big rolloff boxes and excavators…. We're seeing a phenomenal amount of excavation and cleanup crews" from all around the country, he said, as recovery efforts continue.
Martin was near Kansas City heading back home from a truck show Sunday, May 22, when he began to pick up Joplin radio with news of what had happened after the large tornado devastated his hometown. The full import of the damage wasn't apparent "until we got to Joplin two and a half hours later – traffic was gridlocked, trucks were blown over on the interstate. It was then that we realized … this is not traditional tornado." After a long night of darkness and sirens, he said, in the light of day, seeing the devastation, "it just takes your breath away."
But immediately, Martin stressed, neighbor was out helping neighbor and resources poured in from all corners of the nation. From his vantage point, drivers interested in contributing to the relief efforts in the city should now or very soon shift away from donated items such as water and clothing. "Because America is so good-hearted and willing to help," he said, "the area is saturated with clothing and water. There's an abundance of that in town." On the other hand, he added, "household items, shampoos, towels, things like that: they're somewhat in demand."
Over time, as families and community organizations rebuild, financial assistance and in-person work assistance or specific building-materials delivery would be the best bet for able operators. Martin commended the Missouri chapter of the Red Cross for their efforts, and in terms of local organizing of the legions of work-crew volunteers who have flocked to Joplin to help in efforts of late, Martin noted the Red Cross here, too, as well as the Salvation Army, and "the College Heights Christian Church has an effective, organized call center…to get folks in need the help they need. Grace Baptist Church does a good job, too."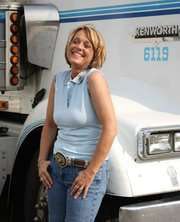 Full audio from the All Drivers Together call with Martin is available via this link, one of many the group's put on since its launch in October last year, says Forward Air-leased owner-operator Ingrid Brown (pictured), one of the founding members. "I called Brian after the tornado and told him, 'When it settles down, let's do things out of the box and get drivers involved in delivery" of whatever was needed as rebuilding kept going, Brown says. "Brian stayed an hour and a half and we talked the relief in Joplin, the drivers were really informed and he's coming back on in three weeks."
Brown, of Boone, N.C., runs in a 2005 Kenworth W900 with a 144-inch big bunk, and moderates the group's Wednesday-night calls with team drivers Susan and Rick Durstine and Michael Stout. Tune in tonight for an open roundtable on what a note posted to the All Drivers Together Facebook page describes as a discussion of ideas and plans to "improve the industry" Brown so dearly loves, "as well as passing along industry information and education."
The call takes place Wed., June 15, at 7 p.m. Eastern. As the note put it, "Drivers are encouraged to call and participate, bringing with them ideas of what is important to them, speakers and people in the industry they would like to hear from. Also, drivers are encouraged to ask questions they would like to see answered by… Once the call has been completed, the suggestions will be compiled into a list and beginning with the most popular topic, calls will be scheduled for the discussions.
"All drivers are encouraged to participate, bring their thoughts and ideas and can dial into the call at (712) 432-0075, access code 243977#. The call will be moderated, recorded and held in Q&A mode to ensure that each participant receives time."
Dial in and and say hi, and stay apprised of future calls (and access recordings of past conferences) via the ADT Facebook page.
Read about a different conference line moving from a small format to a more inclusive series of calls in the Trucking Solutions Group.