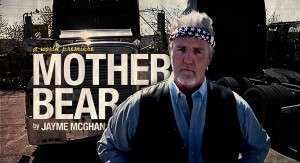 It wasn't exactly going for contemporary industry realism, but it's called "Mother Bear," named for the handle of a leader in a band of not-exactly-savory Utah haulers a young lawyer and "salt man" for an upstart truckers' union seeks out to enroll in his new organization, knowing minions will follow him. Rough-and-tumble Western in tone — with truck drivers instead of cowboys/outlaws, channeling, perhaps, a film most will know too well in Convoy — the stage production by Mortar Theatre completed its run at Chicago's Athenaeum Theatre June 19, so there's no immediate chance of seeing it; keep in touch with Mortar about potential restagings via their Facebook page.
But it's always interesting to see what artists out there do when trafficking in trucking tropes, isn't it. You'll remember my post about the Denver production of "Mama Hated Diesels" and its realistic treatment of drivers last year.
As for "Mother Bear," well, maybe it's true what they say: The 1970s are alive and well and living in the 21st Century. Thoughts?