News today is that celebrity media, as usual, is having fun at the expense of the nation's haulers. You've got two choices, as I see it: go on and have fun with them or get madder than a hornet.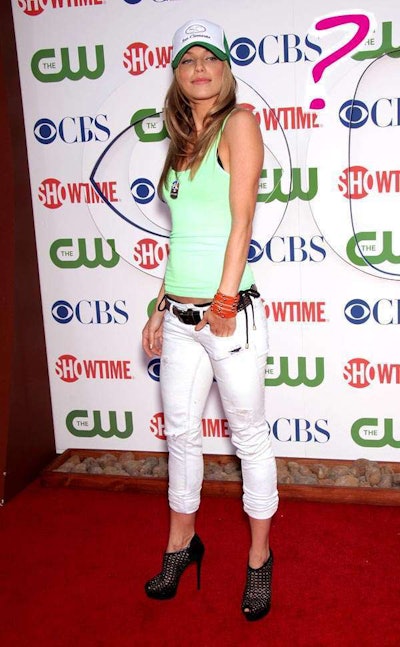 There's a poll over at the Hollywood Life site that asks readers to vote on whether a certain 90210 star's ball-cap look (pictured at a red-carpet affair in Hollywood) is trashy or classy. Want to have fun with it? Go on and vote. (I'd go for classy, for the record, if forced; looks like trashy's got about 55 percent of the votes as of this writing.) All of which is to say nothing, of course, about why folks insist on calling this sort of cap a "trucker hat" in the first place…
And then there's a recent crack made by Roseanne Barr to the folks at the xojane.com website. Asked for the closest she'd ever come to being arrested, she said:
I have been arrested. For hitchhiking in Denver, Colorado and went to jail for it. Jesus, that was in the early '70s. We all used to hitchhike. But it was against the law. I hitchhiked cross-country. I don't recommend it. If my kids would try to do that, I'd chain 'em in the basement. It was so — I shouldn't say positive.
But when I did it, you know, it was so fun. I didn't have a dime in my pocket. I have to thank a lot of great truckers. I love truckers. They'd take me and my girlfriend and they'd buy us breakfast and we just rode in trucks and heard great stories, coast to coast. Nothing bad ever happened. Nobody was ever a creep or crazy like they are now.
Which precipitates a discussion of Ted Bundy… Again, two choices. Laugh and move or… Wait, perhaps there's a third, though if you've made it this far in this post it might just be impossible by now. It's my own typical choice for stuff like this: ignore it and get on to more important matters. Too much work to be done. Etc.
Then again, it is Saturday… So what'll it be? Classy or trashy? Something else?
Safe driving to all who are out there this weekend.