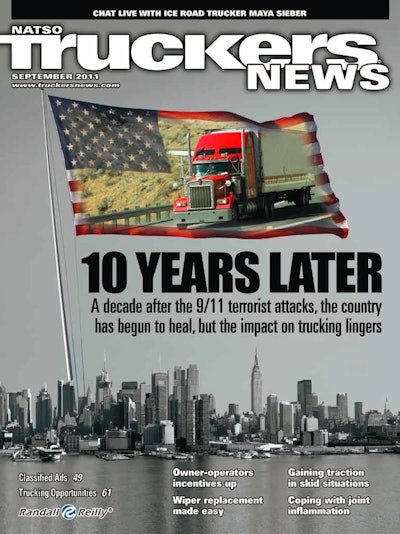 This month's issue of Truckers News commemorates the 10th anniversary of the 9/11 attacks with a look at how the trucking business has changed as a result of the disaster. The areas impacted largely include load security and driver background scrutiny, but also camaraderie, drivers looking out for one another, pay, and other factors.
A lot of the changes have been for the positive, say the owner-operators and drivers we interviewed, with the result of a boosted sense of the industry's value to the country in times of challenge. Give a read to the digital edition of the cover story, which also checks in with several of the drivers we profiled in our 2001 special-issue coverage of the event itself.
And today, another story of a driver's experience in the immediate aftermath of the attack via the West Virginia Bluefield Daily Telegraph newspaper. They tell the story of then-Bennett Motor Express leased owner-operator Russell Vereen, who was called to deadhead to ground zero from Arizona after the attacks to assist rescue efforts. Definitely give his story a read. The sheer scale of the disaster meant that all manner of available government contractors were called up for duty, and Vereen spent nearly half the year thereafter performing such duties as maintaining climate control units for the temporary morgue FEMA had set up at ground zero, in addition to hauling for the agency.
For more, if you missed my post last year about owner-operator Dick McCorkle's experience stuck in Manhattan on 9/11 itself, find it here.