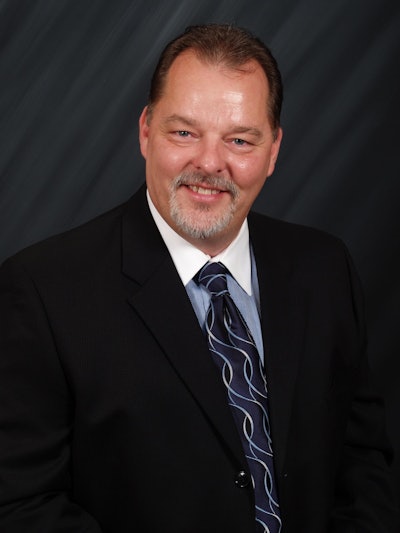 Sam Spradlin (pictured), driver on a pickup-and-delivery route for R&L Carriers, is taking some time off this month, but it's no vacation.
He's gathering signatures needed to file to include himself on the ballot in the Republican primary for his home state's newly redistricted 13th congressional district. He'll be challenging 15th-district incumbent Republican Tim Johnson, who's been in that seat since the beginning of this decade.
"Most people think it's time for him to go," says Spradlin, "but getting him out will be tough," given he's now something of an "institution" in the 15th district, large parts of which are included in the new 13th, comprising Champaign-Urbana, Decatur and most of Spradlin's native Springfield, among other cities.
Johnson's very presence in the 15th seat, however, makes for an easy connection in Spradlin's campaign to win voters. One of his big issues is "putting term limits on Congress. I think that would help the trucking industry" by limiting the influence of special interests, among other effects. He's currently mulling between three and five terms for an effective limit and has himself pledged "to running three terms," he says.
He also holds a hard line on immigration. And he supports continued enforcement of the commercial zone on the Southern border for Mexican drayage trucks until all Mexican carriers can be counted on to meet the standards of the burden of regulations U.S. drivers and owner-operators must contend with. You can find out more about his immigration and border trade policies via the video below, his introduction of his candidacy.
All in all, he's been inspired to run by the extremity of the challenges the U.S. economy has faced these last few years. "After the road that we were taking in 2008," he says, "I realized it would take strong leadership to bring the U.S. back."
The LTL hauler's trucking background runs all the way to 1990, when he ran truckload for GATX contract carriers on a dedicated automotive route and later with New Way Transportaiton. With R&L since 2004, Spradlin is counting on support from the industry and its drivers to make his run a success.
Find out more about the candidacy via his website.
[youtube lDIDIWaVuJI nolink]
Related stories:
Remembering a genuine American — Yellow Freight driver Karl Krueger
Karl Krueger dies in Iowa accident
Owner-operator 'Singin' Sam' Little launches campaign for governor of Alaska