Outreach, education in Memphis
I had the good fortune of meeting Niki

Brown and her husband, independent owner-operator Steve Nelson, this past weekend at the Truck Driver Social Media Convention (if you missed my reporting from the event, find two stories here and here) in Tunica, Miss., due south of their Memphis home base. They're the pair behind Worldwide Transport & Permit Service and the Memphis Trucking Expo, the second annual edition of which is fast approaching this weekend.
Between 10 a.m. and 4 p.m. Saturday at the Agricenter International there treat yourself to a truck beauty show (potential entrants, preregister here), various industry exhibitors and another rare opportunity to connect and exchange knowledge and ideas with other drivers and industry participants on standards, regulations and compliance.
Leading a series of seminars will be Timothy Brady, a gent you'll well know if you've ever put an ear to the Lockridge Report on Sirius XM. A round-up of the seminar program follows:
**10:45-11:15 a.m.: Ed Johnson and Greg Dotson from the Tennessee DOT on the Memphis regional Intelligent Transportation System
**11:45 a.m.-12:15 p.m.: Priority Sleep Diagnostics Facility Manager Carl Malone on the dangers of sleep apnea
**2:15-2:45 p.m.: Ronald Meredith of the Financial Center on insurance issues in trucking
**1-1:30 p.m.: FMCSA rep John Dierberger updating CSA and other regulatory issues
Fun and more in Nashville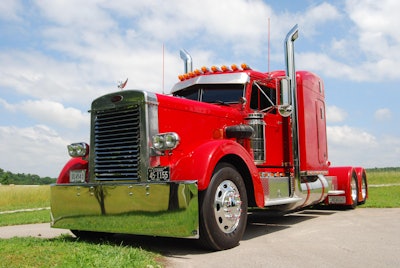 Also this weekend, beginning Friday and continuing into Saturday at the Rush Truck Center facility outside Nashville on I-24 in Smyrna, the Chrome & Class Truck Show brings together a truck-beauty competition, exhibitors, a kids' zone and barbecue for two days of customer appreciation and public outreach. You may remember my coverage of the show from last year — it was a stellar event held at a great Rush dealer location. It runs Friday and Saturday, with a light show Friday night and various entertainment.
Find out more here.
For a further look at one fine custom rig more than likely to be in the Nashville rows Saturday, check out my post about Tobby Donalson of McMinnville, Tenn., and his custom 1959 Pete 351 (pictured above), with a full gallery of shots.