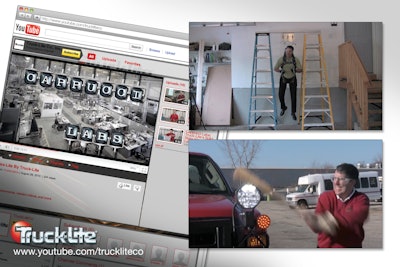 "Customers often ask the same questions about the features and design of our products," says Bob Ives, Truck-Lite's marketing vice president. Coming upon a creative way to address those customer questions and concerns, the company has undertaken a series of YouTube vids that Ives says has proven an "excellent tool" to address "feedback and concerns with an entertaining and educational experience."
The series, headed "Capucci Labs" on Truck-Lite's YouTube channel, sees company Director of National Aftermarket Sales Mark Capucci taking viewers through sundry product tours, putting Truck-Lite wares to various and sundry extreme tests.
"I know you're asking yourself the obvious question," Capucci says during a test of the adhesive strength underpinning the company's "Flex-Lite" stick-on LED marker lights. "If I park my trailer in an active lava field, will the adhesive still hold?"
Capucci then takes a blowtorch to the adhesive and the metal plate the adhesive is stuck to, with good results. Check out the vid below, and for more of them — including tests of the CSA Roadside Lighting Repair Kit, Super 80 Series LED Dome lamps, the Solid-State Work Lamp and more — visit their YouTube channel here.
September 2011 marked the end one year since Truck-Lite began hosting content and discussions through social networking services, establishing a presence not only on Youtube but also Facebook, Twitter and Flickr.
[youtube 2269IGnFQlQ nolink]