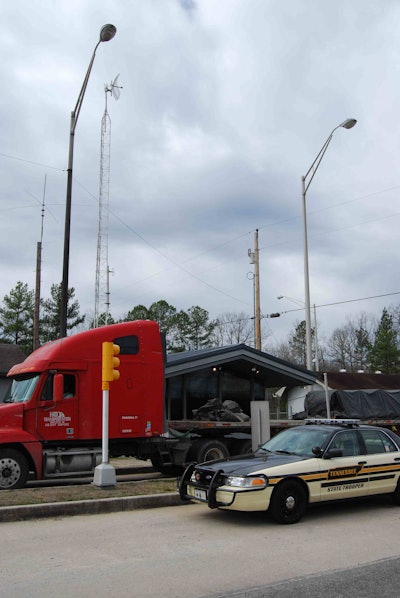 If the handheld cell ban for drivers (which goes into effect Jan. 3) has done anything for the nation's interstate haulers, it's upped the ante on the conversation on this blog about the direction of safety in the industry. Driver and radio host Big Al Weekley is back today with a lament for the safety practices of some among the driving public, with some strong ideas for change that are heavy on veterans' personal responsibility. Teach the next generation right, he says, essentially.
His thoughts, in full below, come on the heels of responses to his inspired Dec. 12 commentary on Nabisco driver Buddy Wenners' "modest proposal" for regulators to just go ahead and ban truck driving in total.
Got your own ideas? Send 'em this way. Post in the comments here or email tdills [at] randallreilly.com.

I want to thank you both for your comments to my article. I truly believe that there are many people out there suffering greatly right now with things the way they are, and from all that I'm seeing and hearing, the roads we will be traveling down in the future are going to continue to get even rougher. It's really a doggone shame that this great industry of ours, with the intelligent and knowledgeable people in it, can't police itself and take care of itself from within. It's a commonly known fact to all of us by now that we all need rules to go by, and someone to enforce those rules. It's just a fact of life.
Let me dig a little deeper in my travel bag and make just a couple more observations.
Airplane pilots all have regulations that they have to go by, right?
When they enter the cockpit they know what each gauge should read, and what each switch will do and what it is for, and when and when not to use all of them. They too, like us in the trucking industry must answer to a team of regulators and enforcers while performing the daily duties of their jobs.
There are sometimes things that I see while traveling the highways that really bother me and make me wonder what has happened to the practice of training and coaching our new drivers in the safe operation and use of the equipment used throughout or industry. Some of what I see on a daily basis is truly shameful and a lot of times just plain dangerous.
The shameful part is our fault, for not stepping up and taking the time to share the knowledge that those before us shared with us when we were the new kid behind the wheel. Just one good example of this: I was traveling down I-80 a couple weeks ago and passed a flatbed driver who had all of his tie-down straps on the outside of the trailer's rub rail. Anyone familiar with pulling flatbeds knows that this is an unsafe practice. There is a very dangerous breakdown in communication and supervision somewhere when a company driver leaves on a run and is illegal and unsafe in plain sight for everyone to see. Sadly, there are a lot of drivers that really don't have a clue when it comes to the proper and legal use of their equipment. We all know that this is a major problem, whether we want to admit it or not.
The way I see it, there is a way to somewhat make a dent in these problems. It would take the cooperation between company supervisory personnel and a special panel of their oldest and most knowledgeable drivers. In my opinion, it isn't only the new drivers that need to be trained, but the new supervisors as well. You cannot supervise someone to do a job if you are not familiar with the job necessities yourself, and we all know that these important attributes are not taught in any college. Most are passed down from generation to generation. It would take an iron-willed group of dedicated people to put something like this together, but I feel it would be a great asset to most trucking companies and their personnel.
Thanks everyone, and stay safe.
–Big Al Weekley