At bottom, find a vid from ATDynamics featuring its new trailer-tail design for vans with rear roll doors, but along the way I thought I'd share some video from my meeting late last year with Brett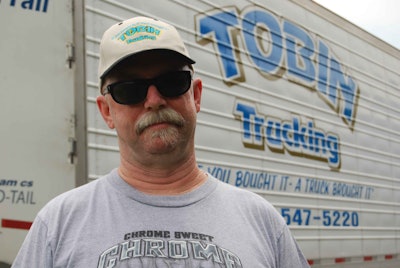 Tobin (pictured), independent owner-operator of Tobin Trucking, based in the Pacific Northwest. Tobin was featured in my fellow Overdrive Senior Editor Max Kvidera's feature on truck-trailer aerodynamics last October for his investment in ATDynamics' skirts and tail technology for his Uility reefer van, with common double rear doors. Since installing the devices, he's boosted fuel mileage from just under 6 mpg to more than 7, he says.
If you've got control over your own van trailer, the combination of skirts and tail may well be worth looking into. Find more information in the vids below or in Kvidera's October feature.
[kaltura-widget wid="94mij3x55w" width="400″ height="365″ addpermission="" editpermission="" /]
[youtube OJApcPCqF6g nolink]
BONUS: Brett Tobin's codrivers, twin Boston terriers: