Last week, when I interviewed Roadrunner Transportation-leased owner-operator Glenn Keller (pictured, second from left) about his ongoing training to be a part of CNN's FitNation Triathlon Challenge, he mentioned to me that he was headed off for a week of training in the state where the Nautica Malibu Triathlon competition will ultimately be held Sept. 16 — Hawaii.
He sent along the pics you see here, also posted to the FitNation main site in a larger gallery you can find by clicking through either of the shots.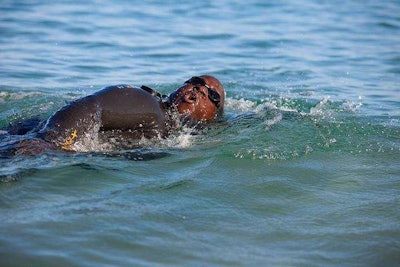 Clearly, the team's been training in the open waters. Keller says, before the trip, he'd been getting in quite a lot of work on on his swim technique when home in Texas from his eastbound-and-back cross-country runs. It's the one training era he'd not been able to do any of out on the road.
And not exactly an avid swimmer to start with, getting back into the stroke of swimming after years of not doing any serious breaststroke swimming was something of a challenge for Keller. "I've drank my fair share of chlorine since we started in February," he told me. If the picture is any indication, he's getting the technique honed this week!
Any serious swimmers among the readers out there?