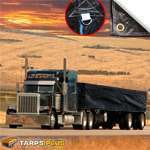 If the Tarps Plus company has its way, you may well in future take a load of its tarps and get paid in, well, tarps.
Check out this story on the San Francisco Chronicle's website, which quotes Tarps Plus president Michael Stein on the "no-brainer" that is a new program looking to barter company tarps for trucking services, part of a growing business-to-business trend that looks for alternatives to traditional cash transactions.
A neat idea, but just think of how convoluted a rate-quote could get in the real world, to say nothing of yearend tax treatment: What's the tarps-per-mile rate from Dallas to Atlanta? The tarps-per-mile fuel surcharge?
Not sure how exactly that would compensate for the cost of fuel? i'm not either.
All the same, if you've done any bartering yourself in recent years or distant memory, what's the last thing you traded your trucking services for, and what was your approach to the deal?