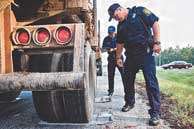 As CVSA's RoadCheck inspection blitz continues this week, the Federal Motor Carrier Safety Administration has issued a call to action that makes clear the importance of safety scoring to motor carriers and independents. Through the end of the month, you'll be able to preview refinements the agency has made to the CSA program's Safety Measurement System that may well have an effect on your rankings in the seven Behavioral Analysis and Safety Improvement Categories. You can preview the changes via this page, where you'll be asked to log in with your DOT-issued PIN.
Independents running hazardous materials under their own authority will see hazmat-specific violations populating a new hazmat-specific BASIC, with all cargo securement violations now figuring into carriers' rankings in the Vehicle Maintenance BASIC, among other changes spelled out clearly in this document.
I'm interested to hear from flatbedders running under their own authority about any Vehicle Maintenance difference you see, given the securement violations changes, as is FMCSA. The agency's "call to action" asks specifically for carriers to "request corrections to any inaccurate data; in particular, motor carriers should focus on ensuring that information related to placardable Hazardous Materials inspections is correct; and provide feedback to FMCSA about refinements they think should be made before the changes are implemented."
Comments on the changes can be made official by utilizing docket number FMCSA-2012-0074 and commenting via https://www.regulations.gov/.
Transportation consultant James Henderson weighed in on the securement change, saying it "lacks any common sense. Maintenance is not cargo securement and the two should not be mixed."
Henderson noted he had examined many of his customers' data and found "that those who have no Alerts will have alerts" with the change, "which will likely cost them business and money. Nothing has changed as it relates to maintenance, but the scores have or will go up. This makes little sense and indicates a carrier may have a maintenance problem when in fact they do not."
What do you think?
The agency will hold three informational webinar sessions online open to motor carriers about the CSA changes. Follow the links below to register for either of the three sessions.
Tuesday, June 26, 2012, 1:00–2:30 p.m. Eastern Time
Wednesday, June 27, 2012, 10:00–11:30 a.m. Eastern Time
Thursday, June 28, 2012, 3:00–4:30 p.m. Eastern Time
Finally, a full list of the changes:
Strengthening the Vehicle Maintenance BASIC by incorporating cargo/load securement violations from today's Cargo Related BASIC.
Changing the Cargo-Related BASIC to the Hazardous Materials (HM) BASIC to better identify HM-related safety and compliance problems.
Better aligning the SMS with Intermodal Equipment Provider (IEP) regulations.
Aligning violations that are included in the SMS with Commercial Vehicle Safety Alliance (CVSA) inspection levels by eliminating vehicle violations derived from driver-only inspections and driver violations from vehicle-only inspections.
More accurately identifying carriers that transport significant quantities of HM.
More accurately identifying carriers involved in transporting passengers.
Modifying the SMS display to: **Change current terminology, "inconclusive" and "insufficient data," to fact-based descriptions. **Separate crashes with injuries from crashes with fatalities.