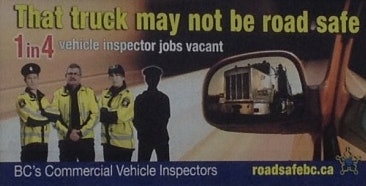 Can you imagine your state's government employees resorting to something like this?
The image here is of a billboard, among other similar ads that are part of a campaign being waged by British Columbia, Canada's weigh-station inspection force for more funding, attempting to exploit the general public's supposed fear of Class 8 on-highway trucks.
The Canadian Today's Trucking publication has a great story about the effort, spearheaded by the B.C. Government and Employees Union — and North American Truckers Guild's efforts to fight it.
NATG president Larry Hall told Today's Trucking: "The union are in full bargaining mode and they don't care who they're throwing under the bus."
Click through the image above or check out the full report here.