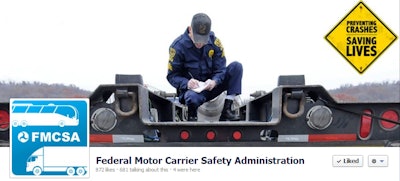 Uh-huh. The Federal Motor Carrier Safety Administration now has a Facebook page and is looking for your safety recommendations — I see at least one on the FMCSA timeline already from a Channel 19 regular. Get over there and tell them what you think! As a driver noted to me today, it could well be a great way to get your thoughts in the eye of the general public "rather than just preaching" to the industry choir.
Looks like they're sharing in-house news and announcements so far, fyi.
Speaking of FMCSA, watch the blog and my Twitter feed early next week for updates from the Monday-Tuesday meeting of the Motor Carrier Safety Advisory Committee. This committee, which you'll well remember from my reporting from their big February meeting on sleep apnea, EOBRs and driver harassment, the cross-border program and more, is scheduled to take up a new task Monday relative to the Compliance Safety Accountability (CSA) program — more than likely having to do with its many faults, from the lack of crash responsibility accounting in the weighting system to the unfair DataQs dispute process, currently under litigation. Stay tuned for more.
If you can be in Alexandria, Va., the Monday-Wednesday meetings are open to the public and each day there's an end-of-day public comment period. Find a meeting agenda here. Monday is perhaps the day most interesting to drivers and owner-operators, but Tuesday will be taken up by discussion of strategies the agency can take up to address several National Transportation Safety Board recommendations. Find a full list of those issues under the "NTSB Recommendations Related Documents" heading with the May meeting on this page.