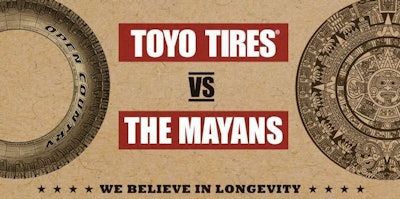 Auto and truck tire manufacturer Toyo Tires is gambling against the end of the world coming this December. "It's pretty simple," runs text of a press release the company sent out this week. "Toyo Tires believes that the world is made to last, just like their all-new Open Country A/T II tire."
Good opportunity for a plug, of course.
Nontheless, "The Mayans, on the other hand, believed the world would end December 21, 2012. Toyo Tires is so sure the world is made to last, they're making an incredible offer: The entire planet gets free tires if the apocalypse actually happens."
Sort of easy bet, don't you think? Depends on your definition of apocalypse, too: Say a meteor takes out part of I-24 in downtown Nashville — to me, and many haulers around the region, the ensuing months of gridlock (judging by the weekend shutdowns we saw there for several months earlier this year) would most certainly qualify as apocalypse. For a Canadian logger, not so much.
Regardless, the Toyo Tires v. The Mayans sweepstakes offers some nifty prizes. "Ten fans will win great prizes, including a custom 4×4 vehicle" as grand prize, reps says. A weekly winner from now through midnight Dec. 20 will get a set of tires, and in addition to the 4×4, the second grand prize is a trip to the Yucatan to visit the Mayan ruins.
You can participate by liking their Facebook page and entering under the Toyo v. The Mayans tab.