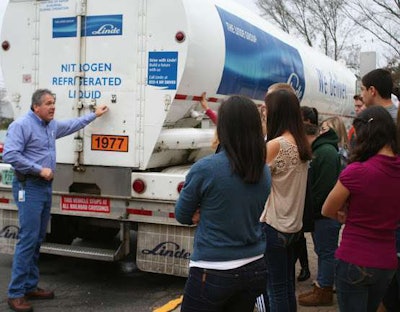 Sharing the Road
That's Linde North America driver and trainer Bob Esposito giving students in Murray Hill, N.J.'s New Providence High School an up-close-and-personal lesson on sharing the road with their refrigerated liquid bulk tanker tractor-trailers. The students, studying to earn their driver's licenses, are not the first to take part in Linde's "Share the Road" program.
It's available to other high schools in the area, where Linde is based. The program included opportunites for students to climb up into the truck cab and get a first-hand look at a professional driver's perspective.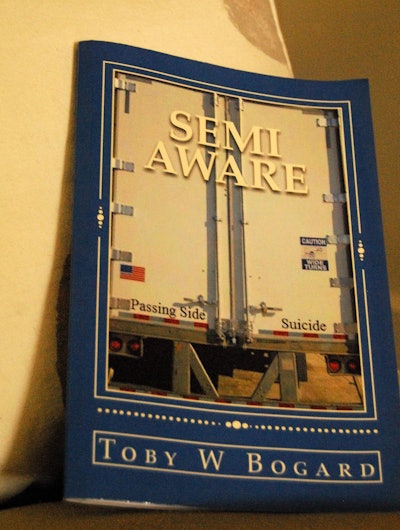 I know there are other fleets out there doing this, but just think if every owner-operator in the nation conducted his own program with a school in his area once a year to train the FFA (Future Four-wheelers of America). How far might that go long-term in combating the problem of four-wheeler behavior on the nation's highways around large trucks. And hey, you never know, one of those young folks might well get the bug. Trucker Buddy's great, but continuing ed with young folks specifically in the area of driving could go a long way.
Brings to my mind Con-way Truckload driver Toby Bogard, who took matters into his own hands a couple years back with the book pictured here, arguing also for mandatory training for all drivers on sharing the road. We need more such efforts, to supplement what organizations like the American Trucking Associations and others are doing.
Anybody ever conducted a training class such as this? Tell us in the comments how you managed to get the opportunity, and any pointers on content/logistics.
Defining 'dream girl' — or not
Tell me how this sounds: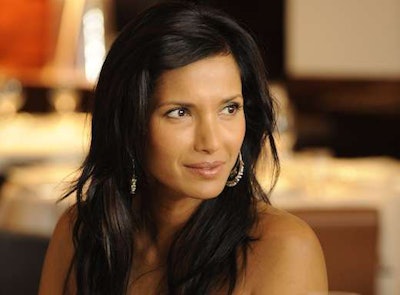 A lot of men get frustrated with me, actually, because I am like a guy. Honestly, I'm like a truck driver trapped in this body. I don't want to be your best friend. I don't expect you to give me a birthday card or send me flowers. I don't need fancy trips. You could take me across the street…. Don't get me wrong. That stuff's nice, but I am a physical and sensual person. I love to be held. I love massages. I'm just not a Hallmark kind of gal.
—Padma Lakshmi, former supermodel and likewise former wife of literary antihero Salman Rushdie, talking to Playboy recently. Today, the culinary-enthusiast types among you may recognize Lakshmi as the host of Top Chef on Bravo.
Christmas already?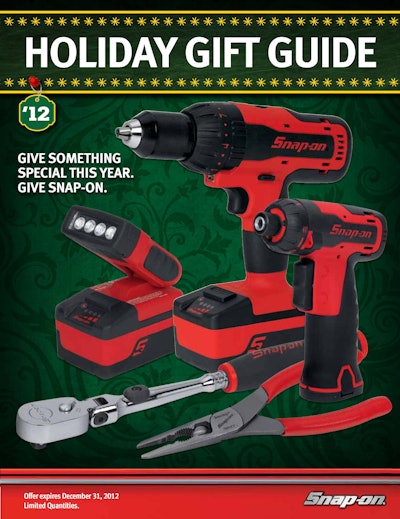 Don't know about you, but I haven't even had Thanksgiving dinner yet, much less invested in some reindeer food for the front yard.
All the same, the folks at Snap-On Tools wanted to get into your head early with some gift ideas from its catalog, sending out this "Holiday Gift Guide" image with associated copy detailing simple, power-tool (and more) options for the tinkerer in your life.
What do I have to say about that? Well, Merry Christmas in November! Here's their Gift Guide site. Happy shopping.