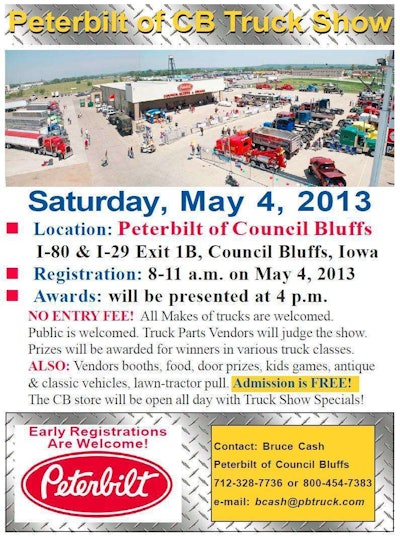 Peterbilt of Council Bluffs, Iowa, has big plans for their truck show this year, scheduled for Saturday, May 4. I've written about the show before — you'll recall this awesome bull hauler, a big winner at last year's event — and this year's sounds like it's shaping up quite well. For details, click through the show flyer at right, and for a brief tour through last year's event, check out the video following below.
Last year a total of 42 heavy-duty work trucks representing a variety of makes were entered in the "show & shine" competition. "From the truckers confirmed so far, we expect to easily beat the number of trucks entered into this year's truck show," said event coordinator Bruce Cash.
Truck registration will be held from 8 a.m. to 11 a.m. with no entry fee, Cash said. The judges for the show will be truck parts vendors, who will also be setting up displays of truck parts and accessories on the grounds. The trophies will be presented at 4 p.m.
Peterbilt of Council Bluffs is located along I-80 and I-29, take Exit 1B. The heavy-truck dealership is located near the Horseshoe Casino and MidAmerica Center.
[youtube Z5myBNr6dIQ nolink]