This one's for those of you who thought it couldn't be done. Pictured below is Mario Almendarez's bicycle-carrying setup on his Prime Inc. company tractor. That's right, he carries not one, but two cycles to suit all purposes, on-highway or off-road.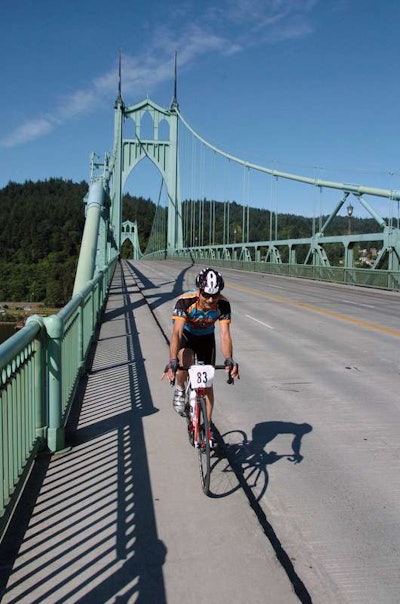 Almendarez (pictured, right) logged a somewhat mind-boggling 500-plus miles on two wheels over the month of May during Prime's cycling challenge among operators carrying bikes with them on the truck, which I reported on last week here. I talked with Oregon resident Almendarez subsequently, last week Friday, during which he told me about how his background running competitively has helped him in his ongoing fitness exploits and divulged a few tricks of the on-highway cycling trade, chief among them mustering a case of the want-tos and then utilizing available tools toward easy mapping of routes in unfamiliar locales.
With a current resting heart rate between 40 and 45, Almendarez is a model of good heart health as a 54-year-old, but he insists that "anybody can do this," given time and will. He's just now coming on a year with truckload carrier Prime Inc., to which he was drawn after hearing about Siphiwe Baleka and the company's ongoing efforts to encourage good fitness among its operators. Former Prime-leased owner-operator (now heading up the company's fitness programs) and competitive swimmer/triathlete Baleka "was a lot of the reason I decided to go with Prime," Almendarez says. He researched carriers after a career as manager of flight crews for an airline, and he's coming up on a year as a driver in the industry with Prime. He adds, "I saw [Baleka] could do the triathlon thing and still be a trucker – and what they offered as a company, pushing health and wellness and giving drivers a chance and incentive to do it."
Part of such, he says, is the cycling challenge, though it's "much easier to run" as a long-haul driver, given the equipment that is necessary for cycling, though as evidenced above he's able to make that work even with one of what he calls Prime's "lightweight trucks with a small sleeper.

For riding on the road, when Almendarez gets to a layover point or destination here he has some time, he pulls up the MapMyRide.com website, the focal point for drivers in the bicycle challenge for tracking their mileage and a helpful tool for locating rides in almost any locale around the nation. Paired with a smartphone app that utilizes your smartphone's GPS to track and store your location during the ride, you can store and make searchable your own rides, as well as search out others in any location.
Searching MapMyRide in a given area "usually brings up ride in the area," starting with a mile or two of his location, he says. I'd kind of follow it on the map," noting key turns and uploading to his bike's computer. If you don't have a computer yourself, tracking the ride via your smartphone's map function would offer similar functionality.
"There have been a few places where I didn't pull up anything close," he says, at which point he's just "pull up the satellite view in Google Maps to scope out his surroundings. "I did that in many places last month – one I just mapped out a 40-mile loop. The point is there are resources out there to find the information you need."
All in all, pursuing fitness on the road in more than a casual way is every bit possible, he said June 21, but "it takes a little work. You've got to be motivated – but you can do it. I'm not really pushing it this month and I've already got 200-plus miles" on the bike. For a guy who spends four full weeks at a time out and often runs hard cross-country from Seattle all the way across to Southern Florida and back, "I still can get a couple rides and a couple runs in" along the one-way trip.